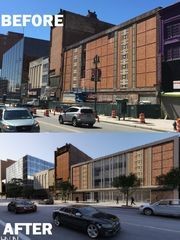 Before and afterPhoto from D&C article
200 East Main Street is the old Mcrory's Department store that is being converted into offices for the Social Security Administration (upper floors), and the city's Municipal Parking and Traffic Violations Agency (traffic court)(basement), and the NYS Department of Motor Vehicles. Street level has not been determined if it will be office or retail.
Across from The Metropolitan.
Construction and renovation is planned to be complete during the spring 2018.