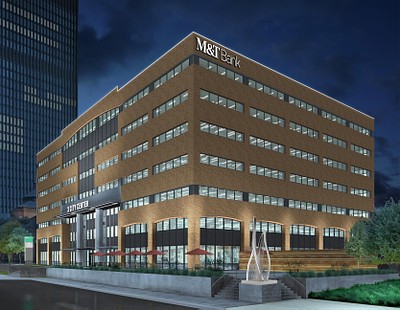 3 City Center was built in 1988 as the new headquarters location for Rochester Telephone Corp, now known as Frontier Communications. They were the sole tenant in this prominent 226,000 SF Class A office building strategically located at the gateway to Downtown Rochester until 2014.
Three City Center Partners purchased the building in July 2016. The new local ownership, Robert Sands, John "Dutch" Summers, Peter Landers, and Robert Morgan, are committed to the resurgence of downtown Rochester. The new ownership is making a $6M+ investment in the building to revitalize 3 City Center and make it an exciting and vibrant place to do business. 3 City Center has been transformed with new exterior entrance canopy, energy efficient glass, building lighting, and new contemporary designed common areas and work environments which include an on-site wellness center.
Native Eatery & Bar is open on the first floor corner with outdoor seating will connect the building to the street and surrounding Washington Square Park and Midtown neighborhoods. making it a lively and vibrant place to be.
3 City Center is now home to the regional headquarters for M&T Bank,
'''Wilmington Trust''' - '''High Falls Advisors Inc., &
'''Allied Universal''' in this prominent seven story building which offers superior location, unparalleled visibility, and Skyway bridge access to parking in the Washington Square Parking Garage.