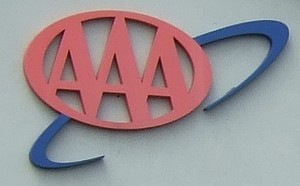 Signage Photo, BradMandell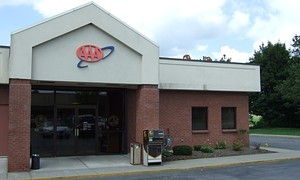 Penfield Photo, BradMandell
Location - Greece
3160 West Ridge Rd, Rochester, NY 14626
Hours (as of March 2009)
Monday, Wednesday: 9:00AM to 7:00PM
Tuesday, Thursday, Friday: 9:00AM to 5:30PM
Saturday: 9:00AM to 2:00PM
Phone
585 227 9600
Webpage
Greece
Location - Penfield
2156 Penfield Rd, Penfield, NY 14526
Hours (as of March 2009)
Monday, Wednesday, Friday: 9:00AM to 5:30PM
Tuesday, Thursday: 9:00AM to 7:00PM
Saturday: 9:00AM to 2:00PM
Phone
585 377 8500
Webpage
Penfield
Accessible
Yes
Website
National
Western & Central New York
AAA, the American Automobile Association, has three offices of its Western & Central New York Division servicing the Rochester area.
The Greece office is in Lowe's Plaza on Route 104, west of Greece Ridge Mall.
The Penfield office is on Route 441, near the intersection with Route 250.
The Pittsford office is a recent addition and is across from Barnes & Noble in the Vitamin Shop Plaza.
Comments:
Note: You must be logged in to add comments