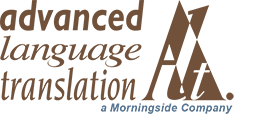 Location
25 N Washington Street, Rochester NY, 14614
Hours (as of January 2010)
Monday - Friday: 9:00AM to 5:00PM
Phone
585 697 0462
Accessible
Yes
Email
<info AT advancedlanguage DOT com>
Website
http://www.advancedlanguage.com
Facebook
Advanced Language Translation Inc. is a company providing corporate translation and localization services with its offices in the Cascade District. Established in 1994, Advanced Language helps corporate clients in Rochester, Western New York and across North America communicate with their customers in over 40 languages. In addition to traditional translation services, Advanced Language also offers technical services for localizing software, websites and multimedia presentations.
The company also offers comprehensive foreign language desktop publishing services in over 40 languages, using the most current tools such as Adobe InDesign CS2, Photoshop, Illustrator, Framemaker, Quark Xpress and Microsoft Word.
Advanced Language Translation provides technical translation in the areas of machine tools, advanced manufacturing, finance, medical devices, food manufacturing, health care, employee relations, information technology and tourism among others. The company achieved
ISO 9001:2000 certification in January 2004.
Comments:
Note: You must be logged in to add comments