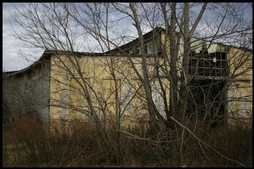 Exterior shot by Robert Polyn
Located south and east of the city in the Village of Manchester is an abandoned train yard with a massive switching structure left on the property. It had at one point been the largest freight-transfer center in the world, later surpassed only by Chicago. It served the
Lehigh Valley Railroad line.
Directions: Follow 96 south from Victor, which will in turn take you east to Manchester. Turn right onto Main, and then right onto Merrick, drive along until you see the massive curved building (there should be a RIG sign in front of it).
There are several other small buildings on the property, along with some old rail cars. Also, nearby look for a water tower. Heading in its direction should lead you to a train parts graveyard and a few more small buildings.
Note: Several buildings on this property have posted no trespassing signs.
Photos