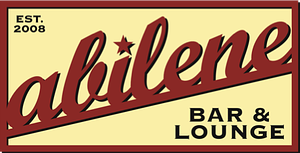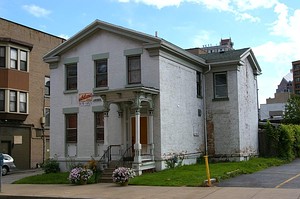 Exterior view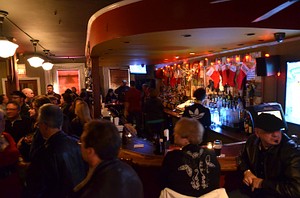 A busy night just before Xmas, 12-2011
Location
153 Liberty Pole Way, Rochester NY, 14604
Hours (as of January 2010 1)
Monday - Thursday: 4:00 PM to 2:00AM
Friday: 3:00 PM to 2:00AM
Saturday: 7:00PM to 2:00AM
Sunday: Special Events
Happy Hour
Monday - Thursday: 4:00 PM to 7:00PM
Friday: 3:00 PM to 7:00PM
Phone
585 232 3230
Wheelchair Accessible
No
Alcohol
Yes
Email
Contact Page
Website
http://www.AbileneBarAndLounge.com
Reviews
BeerAdvocate.com
Abilene is a bar in the St. Joseph's Park Neighborhood that opened in March 2008. Selection includes 60 bottled beers, wines (including some grown organically) hard liquor, gluten-free options, and absinthe. There's also a jukebox and pool table, and occasional live music.
The Rochester Guitar Club meets here on the third Monday of the month. Drinking Liberally meets on Thursday nights.
Annually, Abilene is a venue for the Rochester International Jazz Festival.
Awards
Abilene's "Porkslap" was awarded "Best $2 Can of Beer" in City Newspaper's 'Best Of Rochester' Critics' Choice Awards in 2008.2
Comments:
Note: You must be logged in to add comments
---
2008-06-19 15:48:37 Laid back place, without the "dive-feel". Friendly owner and bartender. Everyone who visits must try the "Moscow Mule", an amazing drink that they make in a copper mug. —TippingPoint
---
2008-06-29 11:07:17 Nice atmosphere. The crowd last night was a bit on the older side, but not in a bad way. There was a chill mix of people, with no meatheads to be found. Bartenders were friendly and whipped up some respectable cocktails. I'll likely be back. —EastSideStephen
---
2008-06-30 20:10:24 Went during the JazzFest. Nice place. —ThomasPawlik
---
2008-07-31 21:14:21 Went for a drink after a lecture at the Dryden. Liked it, we'll be back. Nice atmosphere, good selection of beers and wines. —DottieHoffmann
---
2008-08-02 11:00:40 Went for the first time last night to see Julia Nunes. The patio was nice, and it seems like they have live music several nights a week with no cover charge. It was a nice change of pace from A Street. —MaryaKaszubinski
---
2008-08-11 10:27:48 Abilene is a really cool, chill place. They have a great beer selection and a nice deck. In the winter the interior might be a little cramped, but it is a nice neighborhood bar for people living in the Temple builidng or St Paul quarter. —MrRochester
---
2008-10-02 18:25:01 I had a drink in the building once when it was a gay bar called Tara's. I'll have to go back to see if it's any less depressing. —SteveVictor
---
2009-01-04 13:16:35 I love this place. Have gone a few times to see the regularly-scheduled Wednesday night band, and even though they didn't play any of those times, the bar had *great* music anyway. Crowd is of mixed hipness and age, which to me is a sign of a great bar. Porkslap is delicious (especially for $2!) —ElizMazz
---
2009-04-26 21:19:16 An unexpected pleasure but kind of isolated. Very comfortable. Nice and friendly bartenders. Awesome and chill crowd, no matter the age. Good prices and really nice beer selection. —bjnlbn
---
2009-06-25 08:46:57 I went to Abilene with a few friends last weekend. The live music was free, and the bartenders were very considerate. I waited a little while at the bar before they got to me, so they gave me a free shot of jameson to make up for it. I have definitely waited a lot longer at other bars. The average age of the clientele was quite a bit older than my friends and I, but it won't stop me from going back. —Elijah.S.Rivera
---
2009-09-03 14:07:43 I'm very keen on this place, and for a number of reasons. While I generally prefer drafts at a bar, the bottle and can selection is solid here, with a number of low price options. The people— patrons and bartenders— are diverse, interesting, friendly, and quick with a story or to have you help them sing "Just Like Tom Thumb's Blues." The back patio is a comfortable spot to drink and hang out with friends, as is the upstairs section (which is an affordable space for private parties). They have one of the best jukeboxes in town. —JeffreyL
---
2011-04-08 18:44:13 A great place right smack-dab in the City to get a drink and sit on the porch. Rochester needs more places like this. —BatGuano
---
2011-06-17 18:10:21 great atmosphere i really like it here —sammieG
1website verified Jan 17, 2010