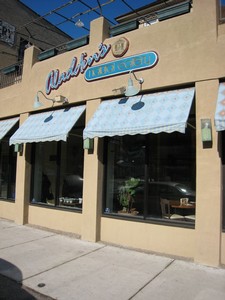 Monroe Ave Location 2-2008
Aladdin's Schoen Place location in Pittsford
Locations
Phone
646 Monroe Avenue, Rochester NY 14607
585 442 5000
8 Schoen Place, Pittsford, NY, 14534
585 264 9000
Hours
Monroe Avenue:
Sunday: Noon to 10:00PM
Monday - Thursday: 11:30AM to 10:00PM
Friday - Saturday: 11:00AM to 11:00PM
Pittsford:
Sunday: Noon to 9:00PM
Monday - Tuesday: 11:00AM to 9:00PM
Wednesday - Saturday: 11:00AM to 9:30PM
Wheelchair Accessibility
Monroe Ave - Small step on bottom floor
Pittsford - Bottom floor only
Email
<eliem1 AT hotmail DOT com>
Website
https://www.eataladdins.com/ Monroe Ave
http://www.myaladdins.com// Schoen Place
Aladdin's Natural Eatery is a local restaurant chain serving Lebanese and other Mediterranean foods. They have two locations: one in the city's Monroe Village neighborhood and another in Pittsford at Schoen Place. The latter overlooks the Erie Canal.
Reservations are recommended for parties of six or more. Take-out service is available. Beer and wine are served.
The Aladdin's menu offers natural cuisine. They use no sulfites or preservatives of any kind. Only fresh vegetables and meats.
Crayons are available for children. They also now offer free Wi-Fi to their customers.
They once had a third location at Park Point at RIT but this closed in 2015.
Awards
Comments:
Note: You must be logged in to add comments
---
ADMIN NOTE: Due to archiving purposes, comments from 2009 and earlier have been moved to Aladdin's Natural Eatery/Comments
---
2010-01-10 09:15:59 Went there on a Saturday night and it was busy so maybe that is why the service was super super slow. The food portions are huge and most of the food we ordered was tasty—the hummus, spanakopita, pasta tourlou, falafel pitas. The souvalaki said it was tenderloin but if that was tenderloin it was the toughest tenderloin I ever had—seemed more like sirloin. Falafels were OK but I think they are better at Sinbad's. All in all a good, inexpensive restaurant and I would return- but at a less busy time.... —RocDiner
---
2010-02-06 08:25:16 I have enjoyed the flavor and the good value of the food at the Pittsford location for many years, however, I have a serious problem with the customer service of the 'manager'. My husband and I were seated near a couple who discovered a live slug/snail in their salad greens. They complained about it to the 'manager', who scowled at them and argued with the woman that it really was a piece of mushroom. We saw it moving and confirmed it was a LIVE foreign object. The owner was aware of this issue and deliberately avoided their table (Way to go!). The 'manager' actually brought them the bill with the entire charge of both meals. The woman firmly stated that she was not paying for her meal, and the gentleman stated he wasn't paying for his as well, because he was revolted and unable to finish his meal. As soon as they left, the 'manager' leaned over and told us 'they've done this before!" indicating this couple was unscrupulous and was trying to scam her. I do not agree with this, because it is possible to twice find objects in your food there, I have. I once found a small bug in my greens, which I did not address, but I once also found a huge twig/stick in my salad as big as my pinkie and I addressed it. I thoroughly wash and sort my greens at home and I expect them to do so as well. We told the waitress about it and she removed the charge from our bill. She offered us free dessert, which we declined, but expressed our appreciation with how she handled it. She said the 'manager' will be offering us the free dessert when we pay at the register, and this woman not only neglected to offer us dessert, she scowled at us and refused to greet/speak to us while we checked out, rolled her eyes and sighed loudly. She was clearly irritated about our complaint and begrudgingly allowed the removal of the charge. This 'manager' should take some customer service training and put it into practice. She is very ungracious toward and suspicious of customers. We have not been back since, and I tell everyone I know about my bad experience. I had the opportunity to plan a work event lunch/canal tour for 17 people, we ate at a nearby restaurant rather than Aladdins. —LisaRuns
---
2010-02-15 09:56:13 Aladdins Pittsford Location. Where to begin? Not a pleasant dining experience. And, a bit shocking how apathetic and rude the management, wait servers and owner can be. The immediate greeting as you walk in the door is never friendly or warm. It feels like a BIG deal by whomever is seating you. Sometimes, the party can be seated without all people present, other times your party has to wait till all members have arrived. The later is always said rudely & in a "I don't care" manner. Never consistent, never pleasant and never warm. Some food items are good but most are mediocre.
A recent visit to the restuarant was extremely shocking. After I had paid the bill, I was acosted by the waitress, who is also the manager, for not leaving a 15% tip!! Wow, now that's a first. She was one angry woman, let me tell you. Expressing our concerns to the owner on our way out proved fruitless and equally demeaning. He was confrontational, argumentive and towered over me in a very threatening way! It was truly a very upsetting experience. I always thought it was odd the way you were greeted so poorly at Aladdins Pittsford. Now, it all makes sense when the message goes from the top, through the management and right down to the servers who are also the greeters.
It is truly amazing that such poor management skills exist in such a public arena. —bluesky

---
2010-03-11 12:42:12 Personally, I like finding a living bug in my food. It is comforting to know that the produce that I am about to comsume wasn't drenched in pesticides and chemicals, and that a natural creature can actually exist on the said plant. That being said, however. I have never found any living bugs in my platters at Aladdins. Only inexpensive, delicious, unpretentious fare. The service is always warm and friendly. If everyone would stop channeling all of their negative energy on their servers, and start exuding some positivity towards their fellow diners, they might actually enjoy the experience. So, get the stick out of your *** and put a fork in your hand, because this place is scrumptous. —Dice
---
2010-06-02 11:51:43 Hey, Dice, read carefully. The negativity came from the pudgy blonde 'manager', who is the owner's sister. Either you are employed at the bad customer service Pittsford site or you are affiliated/friends with the owners. did you see in the forum rules 'no shilling'? Dolt!
A shill is a person who is paid to help another person or organization to sell goods or services. The shill pretends to have no association with the seller/group and gives onlookers the impression that he or she is an enthusiastic customer. The person or group that hires the shill is using crowd psychology, to encourage other onlookers or audience members (who are unaware of the set-up) to purchase said goods or services. Shills are often employed by confidence artists. The term plant is also used. The term is also used to describe a person who is paid to help a political party or other advocacy organization to gain adherents; as with the situation of selling goods or services, the shill gives the impression of being unrelated to the group in question, and gives the impression that he or she finds merit in the ideological claims of the political party.
Shilling is illegal in many circumstances and in many jurisdictions[1] because of the frequently fraudulent and damaging character of their actions. However, if a shill does not place uninformed parties at a risk of loss, but merely generates "buzz", the shill's actions may be legal. For example, a person planted in an audience to laugh and applaud when desired (see claque), or to participate in on-stage activities as a "random member of the audience", is a type of legal shill.
"Shill" can also be used pejoratively to describe a critic who appears either all-too-eager to heap glowing praise upon mediocre offerings, or who acts as an apologist for glaring flaws. In this sense, they would be an implicit "shill" for the industry at large, possibly because their income is tied to its prosperity. The origin of the term shill is uncertain; it may be an abbreviation of the Yiddish shillaber. The word originally denoted a carnival worker who pretended to be a member of the audience in an attempt to elicit interest in an attraction. Some sources trace the usage only back to 1914.[2][3]

---
2010-10-27 00:57:11 I've been to the Pittsford location many times. The food is pretty good (I usually stick with the Gyro plate), but the customer service is very questionable. Almost every time I have been, the waiting has been awkward and unprofessional. I also have to agree that the greeting is cold/non-existent when entering Aladdin's. —SargtGrumbles
---
2011-01-02 21:51:19 I love the Monroe location, their veggie sampler platter is amazing. The spanikopita is average though, you just have to be careful what you order here. Skip the pasta, the sandwiches and apps are where they shine. Avoid the desserts. Strangely enough, the pittsford location is downright awful in comparison. Maybe the owner hangs out at the Monroe location more? —jberna
---
2011-01-14 17:08:39 The Monroe location is owned by a different person than the one in Pittsford. —RichardSarkis
---
2011-03-10 19:39:06 These guys posting negatives are nuts!! We have been to the original location and the Pittsford location (which is amazing, you dine outside atop the canal). When out of town guests comes, we always find a time to get them there and they have loved it as much as we have. Nothing very fancy, the Monroe Ave. location is a bit dressier but it's hard to argue with the outdoor seating (weather permitting) of the canal location.
Besides all of that, 2 people can eat ample fresh fresh food well prepared with some great inexpensive wine and take change home if they bring $40. Including tax and tip. Less than going to a typical pub consuming their food/ beverages. —wdrazek

---
2011-03-27 21:28:34 aladdins is no question one of the best restaurants in rochester. i have only been to the monroe location but i love sitting on the balcony in the summer. everything i have ever got there is super tasty and the waitstaff is soso friendly! go now! —antco
---
2011-04-17 17:39:27 I regularly eat at the Monroe avenue location for lunch. I've always had good service with the staff, and have never waited a long time for the food to come out. Their lentil soup and lenchili are fantastic. They're both balanced, thick and flavorful. You also can't go wrong with any of the pockets, as they're all HUGE with a ton of lettuce, scallions, and sprouts. My favorite pocket is the falafel pocket, as the patties huge, nicely spiced, and will leave your heart in content as you indulge in something so delicious. —chunkylover53
---
2011-04-18 12:41:26 They are soon opening a 3rd location where Siam used to be (corn hill landing). —TippingPoint
---
2011-04-21 01:44:33 The Monroe location is owned by a different person than the one in Pittsford. The owner of Pittsford is opening a new location in corn hill. If you had a bad experience at the Pittsford location I suggest you do not try their new location in downtown, stick with the Monroe Ave location. There food is more fresh, and the service is always better! I love going to the Monroe location,the food is always delicious and the portions are so big. —jomin
---
2011-05-09 10:06:45 Every time I visit Aladdin's, on Monroe Avenue, I am impressed with the the quality of the food, the fantastic service and how reasonably priced the menu is. My family and I had a Mother's Day feast of appetizers, that included falafel, humos, dolmades, tabulee, baba, an eggplant dish and endless pita bread, which was followed by
the mixed grill and spanakopita. Our meal was capped off by the best baklava I have ever eaten and freshly brewed coffee.
There's a lot of care that's put into the food and it shows. This restaurant is a true Rochester gem! —megshoots

---
2011-05-27 08:53:34 I'm a usual goer of Aladdin's on Monroe, so I decided to try the new Corn Hill Aladdin's the other night. After a long wait for bad service and mediocre food (i.e. humos), I'm going to have to agree with lots of the reviewers and stick to the Aladdin's on Monroe ave. I've never had a bad experience there. Who's smart idea was it to open an Aladdin's so close to the other one in the city? Monroe ave is a lot more convenient anyway and you've got Archimage next door :)... I'll stick to the original Aladdin's thank you very much. —JenniferMason
---
2011-05-27 16:01:54 The Monroe avenue is the better location. The food is better and the staff is pleasant. Last week we ventured to the Schoen Place location for a graduation celebration. We were very disappointed in the food and the service. The server was not attentive and seemed very rushed. The server didn't bring various items we asked for ( napkins, a beer, and a meal). The server was borderline rude and didn't seem to care how his service was since the tip was automatically added to the bill. The food was delivered and one person ordered the souvlaki and literally got three small pieces of meat hidden amongst a bunch of lettuce. Since we were hosting this party it was an embarrassment to us in front of our family. They were from out of town and we were looking to bring them to a local Rochester restaurant that we thought would be as good as the Monroe location. Since then, many of my neighbors and friends have also concurred on what an awful place the Schoen location is. We will never be back. —RocDiner
---
2011-05-31 14:04:17 D+ We went to Schoaen Place over this past weekend and it was bad. My husband and I both ordered falafel and it tasted fishy! I got and iced tea that was never filled and our waitress dissapeared for quite a long time, leaving us to just sitting there staring at each other waiting for our bill. the only reason I am giving the + is that the salad was very fresh at least and the dressings were tasty. We will not return. —NewtonNola
---
2011-06-01 19:13:58 NewtonNola- hope you try the Monroe Ave location. I find it so much better with their food and service than the Pittsford. The Pittsford owner also owns the Corn Hill location so the food will be the same. The food on Monroe is more tastier! —jomin
---
2011-06-03 11:23:03 Yeah, not sure what's happened with the Pittsford location in the past couple years, but Aladdin's is hands down my favorite restaurant in Rochester. Luckily I just go to the Monroe Ave location and don't have to deal with the cheapness and stooty attitudes of pittsford. I did try the corn hill location and hated it... now I see from the previous reviewer that it's the same owner as Pittsford. Go figure.
The food portions are also larger at Monroe Ave and the meat has always been cooked better. Example: Chicklaki at Pittford are only a few pieces of chopped chicken. Chicklaki at Monroe Ave are two chicken breasts slices and grilled to perfection. Big difference! —JenniferMason

---
2011-06-24 22:03:22 I too, have found the Monroe Ave. location better compared to Schoen Place. Tasty food with generally large portions (huge salad comes with the souvlaki/chicklacki plate). My vegetarian father-in-law had a mix of appetizers for his dinner, and absolutely loved it. Monroe Ave. location has an interesting three-floor layout that I did not expect to see when I entered the building. —AndrewL
---
2011-06-29 21:50:21 Very disappointed in dinner tonight. Arrived around 7:45pm at the location in Corn Hill. Ordered an appetizer and dinner. The appetizer arrived with no plates. Asked for plates and they were delivered very late, almost finished the appetizer. Then during our dinner, they were stacking the outdoor chairs around us- which was very distracting. Then we finished dinner and another server came out and asked if we needed anything, because they were closing. I have never been pushed out of a restaurant so fast before and it was only 9pm. I will not be going back! —lilBiscotti
---
2011-07-23 17:22:15 My wife went with a group from work during lunch to the Corn Hill location. She wanted to order Felafels but they said they were not made yet. What kind of Mediterranean restaurant would not have a staple ready for the lunch crowd. I guess staff needs to come in a little earlier to prepare. I have been going to other locations for years and would be surprised if that would happen. —ScottHendler
---
2011-08-08 15:11:55 Have to agree with comments above regarding portion sizes at the different locations. Pittsford location definitely skimps on portions — their gyro pitas could be viewed as a snack instead of a real meal, which is so disappointing (albeit tasty). I recently tried out the Corn Hill landing location, and their portion sizes were much more generous and more in line with the portion sizes at the Monroe location (without being the typical ridiculously large portions that seems to be the norm now). Love Aladdin's, love the new location at Corn Hill (outdoor seating is very nice), would LOVE to see regular sized portions at the Pittsford location. —Acarp
---
2011-10-04 16:35:58 All of the locations have deteriorated in terms of conditions (dirty) and much smaller portions. Ordered take out one night and someone in our party had a gyro with one small piece of meat and all else was onions. They used to have great wait staff but that has changed too. Unfortunate. Would like to see it back to what it was. Til then...Sinbads. —ellenb
---
2011-10-06 14:39:29 Monroe Ave Location - Excellent food, excellent service, great value for your dollar. Schoen Place Location - BEWARE under different ownership! Rude servers and unprofessional management. Go to Monroe Ave for a great meal and friendly staff, but AVOID SCHOEN PLACE PITTSFORD unless you want to be treated like an annoyance. —thatgurlcarolyn
---
2011-11-17 20:36:03 I'll have to chime in here as well. The Schoen Place and Corn Hill locations only share the same name to the Monroe location and not much else. Went to the Corn Hill location and we ordered the Gazpacho soup. Server asked, "Oh, what's that?" Said to myself, "Oh, my god." Salad we ordered was small and wilted. My falafel wrap came out as the wrong order. When it did come out the falafel was cold and really dense. On a different occasion, I took my parents to the Schoen Place location for the nice view and was embarrassed about the food that came out. Portions were really small and our order was botched. Also, didn't seem very fresh.
On the other hand, the Monroe Ave location is one of my favorite restaurants. The food is reliably delicious and fresh while the service is always friendly. Can get pretty busy on a Friday/Saturday night, but overall a relaxed and comfortable atmosphere. In my opinion the best falafel in town = crispy, warm and light. And did I mention the Limone pasta? Yum! Veggie sampler also a great meal to share. —pdx87

---
2012-01-30 21:31:23 My partner and I went here on a Saturday night in the winter, since we've had some really bad luck with finding decent places for dinner downtown before the RPO concert that are quick and affordable. Since we'd both been to Alladins numerous times at both the other locations, we decided to try it out. We parked on the street (that parking lot has been a zoo for years!), and walked up.
Upon entering, the first thing I noticed was the extremely odd layout. Checkout counter, desert display case, and 2 tables stuck into the corner. Up the stairs were ALL the other tables. The place is arranged on a split-level, with the kitchen located in the center, UNDER the upper tables. With 2 open doors to the kitchen, you can hear and smell everything going on in there. I would assume that during the summer, being seated outdoors would alleviate this condition, but in the winter, you never forget that the kitchen is RIGHT THERE. I would think that a door would help things a lot. Every time you hear somebody drop something, you want to yell "Opa!"
The food: Typical Alladin's greco-mediterranian fare. Decently done, but about as exciting as a 1982 Ford Escort. Reliable, predictable, and always served on a far-to-small plate, guaranteeing that a good portion of the lettuce will fall onto the table. I had a gyros plate, which, frankly, tasted like a gyros plate, as it always does. My partner had a combo plate (which I like to refer to as the Greek Civil War special...), and it was likewise exactly as expected. Service was quick, wine selection a bit spotty, but beer selections are surprisingly decent (I chose a slightly hoppy Pilsner Urquell, which went quite well with the food). Prices are reasonable, and I frankly would like to see what it's like in the warmer months, when the mighty Genesee river running right past you might make it a more relaxing meal.
Can't go wrong, and is probably going to be my regular 'plan B' restaurant downtown. —Alex-C

---
2012-03-10 09:18:31 Inexpensive, friendly, delicious, healthy, filling, Mediterranean food at its best in Rochester. Especially love the Pittsford location. —AGoldman
---
2012-04-05 20:21:46 Everyone should know that the Monroe Ave location is owned by a different owner than Schoen Place & Corn Hill. While they have the same menu and their food is extremely similar there are some critical differences. Monroe Ave has always been owned and managed by the lebanese Mina family that opened it and therefore the food is much more authentic and fresher tasting. I have worked at all three locations and can say with 100% certainty that every single dish is much better than at either Schoen Place or Corn Hill. The cooks at Monroe are hispanic and lebanese and have been cooking the dishes there for 10 years or more. The owners and cooks at Corn Hill and Schoen Place are all white and have cooked for 1-2 months-5 years; and trust me you can taste the experience of the Monroe Ave cooks. However, the service, alcohol selection, and scenery are much better at Corn Hill and Schoen Place. If you're looking for a pretty good meal with gorgeous waterfront seating head to Schoen Place on the Erie Canal or Corn Hill on the Genesse River. But if your looking for great Mediterranean food or take-out definitely head to Monroe Ave, who also have outdoor seating on their terrace. —catwhisperer
---
2012-06-03 18:46:30 The location at Park Point is now open- but I can't find their hours or any additional info (phone, etc). I went with Saudi friends today and we all enjoyed what we had- it was a lovely experience. Waitstaff was attentive (one of my Saudi friend noted that they were "always coming by with water and to ask if we needed anything, not like it would be in an Arab country"). I'm so glad they've opened this location, will be a nice go-to for a quick lunch for RIT fac, staff and students and a nice new addition to Henrietta. —ShawnaLusk
---
2012-06-28 21:51:05 Best mediterranean restaurant in Rochester without question! Great service, food and prices! I have only been to the Monroe location though so i dont know about the other 2. —jcs3636
---
2012-07-23 15:41:00 I hadn't realized before reading this page that there was different ownership for the different branches. It makes a lot of sense. All three restaurants have nice design and the same very nice menu, but I've had disinterested service and underwhelming food at both the Corn Hill and Pittsford locations. I've had nice experiences at the Monroe Ave. location, though. —GeorgeOliver
---
"2012-08-03 19:30" SERIOUSLY AVOID THE MONROE AVE LOCATION!! I HAVE DISCOVERED A WAITRESS COMMITTING FRAUD AS WELL AS BEING VERBALLY ABUSIVE IN FRONT OF THE OWNER, WHO APPARENTLY DID NOTHING!! I have been a regular there and always liked the food, but after having had VERY BAD service I gave the waitress only a 10% tip on a credit card. She CHANGED the tip to a 15% tip and more that what I gave her was taken out of my account!!! After I verified that she had altered the bill, I realized that this has happened several times, and I had just assumed I wrote the wrong total in my checking account. I spoke with the owner and he stated he would talk to her. The next time I went there, in front of the owner, the woman started SCREAMING at me non-stop despite the owner's attempts to stop her. I had to leave the restaurant as she would not stop screaming at me and I could not possible eat my dinner. The owner again stated he would "take care of it." I had to return 15 minutes later to look for my keys and the woman was STILL WORKING THERE!! I have spoken with several friends of mine who are waitresses who stated anywhere else the waitress would (and should) have been fired immediately. I do not know what the owner's idea was of "taking care of the situation" was, but apparently not much. Although the food is good, I would recommend NOT patronizing this location, given both the continued FRAUD as well as the verbal abuse that was tolerated by the owner. —JoyVandling
---
2012-10-13 16:49:46 RIT/PARK POINT LOCATION: Niece and I had Melanzaga (basically Eggplant Parm) and wife had a Tuna Pita with Crest & Fetta Cheese. HUGE servings. We loved it! —peteb
---
2014-07-23 21:47:39 Swung by the Schoen Place location to get dessert to go at 9:10 p.m. this evening (a Wednesday). Was stopped at the door by an employee and told they were closed. We said that we did not want to sit down and eat, just wanted to purchase a to-go dessert at the counter. She replied that the registers were closed and turned us away. Stated hours on here as well as their own website say that they are open til 9:30 p.m.... I am not sure what time they are REALLY open until (8:30? 9:00?), but they need to change their posted hours to reflect reality. —ajh
---
2014-09-12 09:36:11 Just ate lunch yesterday at the Park Point location: delicious, fresh food. My gyro plate was fantastic: the meat was flavorful and tender with just enough bark for good texture. The lettuce was fresh and crisp. My companions got the Greek salad with chicken and said that was very tasty as well. Highly recommended. —KatieSchmitz
---
2016-01-21 12:13:23 D&C says the location at park point has closed. —abraxas