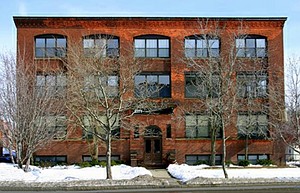 Photo copyright
Russ Lunn and
Shoe Factory Art. Used with permission.
Wall/Therapy mural on back of the building.
The Anderson Arts Building is a revitalized industrial space in the Neighborhood of the Arts. Located next to the Village Gate, it became the E.P. Reed & Co. shoe factory in 1906. Today, it houses restaurants, art studios, and retail. It is a major destination for First Friday.
Occupants include:
* The Anderson Arts Building does have a freight elevator still in operation. However, the elevator requires an operator to use, which is only available during special events, such as First Friday. The Good Luck Restaurant entrance is wheelchair accessible.
Comments:
Note: You must be logged in to add comments