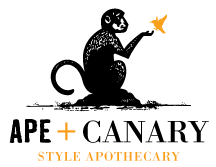 Location
566 East Avenue, Rochester NY, 14607
Hours (as of June 2018)
Tuesday - Friday: 10:00AM to 8:00PM
Saturday: 9:00AM to 4:00PM
Sunday: 10:00AM to 3:00PM
Phone
585 490 9401
Wheelchair Accessible
Yes
Email
<benn AT apeandcanary DOT com>
Website
http://www.ApeAndCanary.com
Facebook
Ape + Canary on Strathallan is a full-service unisex salon which moved from NOTA to East Avenue and is now part of the Strathallan Hotel. Located across Strathallan Park, behind and attached to the Century Club of Rochester it replaced the Strathallan Spa in March of 2018. The salon also features a blow-dry bar after 4:00PM. According to Ape + Canary: "A blow dry bar is no cutting or coloring, just simple pampered shampoos finished with the perfect style!"
Benn Lobol is the owner and master stylist.
Opened in August 2015.
Comments:
Note: You must be logged in to add comments