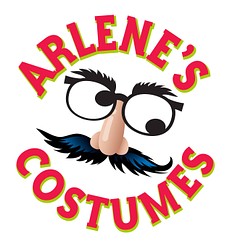 Arlene's Costumes is a local chain of costume stores.
History
Arlene's was founded in 1956 when Arlene Stephens and her mother Mildred "Molly" Stephens ran Arlene's out of a small store on East Main Street in Rochester. Arlene and Molly saw children in the neighborhood wearing garbage bags on Halloween and decided to start making costumes for kids. That, of course, was just the beginning.
In 1975 Arlene's Costumes moved to its longtime home at 1156 Culver Road. Rentals such as overhead parade outfits and vintage period costumes were the main attraction at that time. As business grew, retail became more and more popular. In 1982, Arlene's opened a new one-of-a-kind 500sq ft retail store front in addition to its already impressive rental space.
Over the years, Arlene's outgrew that space opening seasonal locations in Western New York area shopping malls and plazas. Bursting at the seams, Arlene's moved to its current 10,000 sq-ft showroom on Portland Avenue in Rochester in 2003 (Group 14621 neighborhood). Here, they offer traditional Halloween costumes for children and adults as well as makeup, accessories, and novelties.
Comments:
Note: You must be logged in to add comments