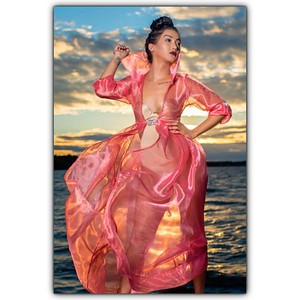 Phone
585 683 7047
Email
<aacsutherland AT gmail DOT com>
http://arlenesutherland.bigcartel.com/
Arlene Sutherland is a fashion designer, born and raised in Kingston Jamaica. In 2002 Arlene Sutherland started designing in Rochester New York. Sutherland is widely known for her dramatic flare and eye for detail in all her designs.
Arlene Sutherland has received awards for "best designer & fashion icon", along with several full featured stories in the (Democrat & Chronicle newspaper, Rochester Business journal and Rochester Woman magazine). Arlene Sutherland is a firm believer that every woman should have a fabulous red carpet moment.
Arlene Sutherland's collection has been worn by the greater populace of Rochester New York along with Syracuse, Miami, Brooklyn, North Carolina, Atlanta, and England.
**Every piece is designed (sketch/created) and delicately handcrafted or supervised by Arlene Sutherland.
Links
Comments:
Note: You must be logged in to add comments
---
2016-09-11 16:45:16 I stop in and updated the info that is here on Roc Wiki about my business and myself.I hope the new info will help keep everything on her true & current about me —Anitasutherland
---
2016-09-11 16:46:45 I stop in and updated the info that is here on Roc Wiki about my business and myself.I hope the new info will help keep everything on her true & current about me..Arlene Anita Sutherland Owner & designer of Arlene Sutherland collection —Anitasutherland