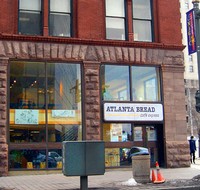 Outside of downtown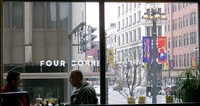 The upper level downtown has nice tables
Usually pretty busy downtown
Former Locations
East Main Street, Rochester, NY 14614
2949 Monroe Avenue, Rochester, New York 14618
Status
CLOSED-Official Date Unknown
The Atlanta Bread Cafe locations in the Rochester area were:
The downtown location mostly served the downtown morning and lunch crowds this cafe had a fair amount of traffic all the time. The second floor has some nice tables, including a walled off quiet room which is nice for studying.

As you can expect from a bread company, you'll get awesome quality sandwiches at this store. The sandwiches are between $5 and $7. They also serve 5 different salads between $5 and $7. For breakfast you can get a breakfast sandwich which is egg and cheese with your choice of meat for $3 or bagels and other baked goods. The coffee and espresso drinks are priced slightly cheaper than a typical cafe. There are five flavors of coffee. For $120 you can get an unlimited supply of coffee for a year.
Comments:
Note: You must be logged in to add comments
---
2008-09-03 20:31:47 I don't know when they closed, but the sign is still there. My friend was a manager at the downtown location and also the Pittsford (I think). —JoannaLicata