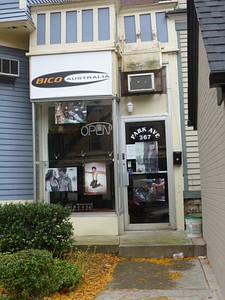 Original Park Ave store in October 2011
Former Location
271 Greece Ridge Center Dr, Greece, NY 14626
Status
Closed
BICO Australia is a Sydney-based jewelry company founded in Bondi Beach in 1995. They have locations in over twenty countries and are famous for their silver-plated pewter pendants. They describe their products as "tribal" in inspiration.

The owner of the Rochester-area location was Kyle Banker, whose story can be found here. He opened his original store October 1, 2011 at 367 Park Avenue, in the former home of Ambient Candle Company. He moved to Greece Ridge Mall (near Old Navy) on August 1, 2012.

Online shopping was also available.
In 2014 Kyle Banker decided to expand his business operations. He closed the mall store and opened a new shop called Roc City Expressions. BICO Austrialia jewelry may be purchased there.
Comments:
Note: You must be logged in to add comments
---
2012-07-04 16:24:27 That small space at 367 Park Ave is said to be cursed. Most businesses there have failed. Glad to hear this place succeeded! —EileenF