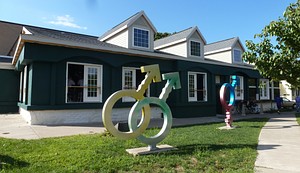 (Sept. 2012)
The Bachelor Forum opened in 1973, making it Rochester's oldest gay-owned and operated bar. They were originally on East Main Street but moved to their current location in the Neighborhood of the Arts in 1989.
The Bachelor Forum is a gathering place for the area's leather/levi and bear communities. They are the official home of the
Rochester Rams and
Empire Bears. (Admin note: the first site appears to have adult material.) The rainbow-colored gender symbols outside their doors are famous monuments to the GLBT liberation movement.
The interior and exterior underwent extensive renovation during the summer of 2012.
See also
Comments:
Note: You must be logged in to add comments
---
2013-03-04 22:45:35 Went here for the first time tonight to meet a friend. Being a Monday night, it was pretty quiet but had a very friendly crowd. Everyone seemed to know everyone else. I'm told it's pretty zany on weekends. —EileenF
---
2022-04-20 16:33:23 In March, I was visiting from Minnesota and came into the Bachelor Forum on a Friday night.Lewis served me 3 drinks and suggested I come back to check out the Saturday night crowd. So I returned the following night and Lewis served me 4 drinks. Each night, I paid with a credit card. When I got my statement, it showed that Lewis overcharged me over $100 EACH night that I came in. I didn't sign for these inflated totals and I wasn't hammered. Lewis simply tried to take advantage of an out-of-towner who was having a couple of drinks. Very disappointing. —MBenson