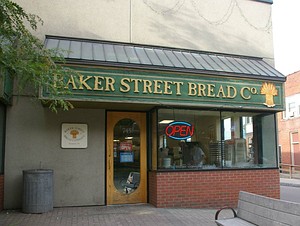 (Aug. 2007)
Location
745 Park Ave, Rochester, NY 14607
Hours (as of Febuary 2014)
Sunday - Monday: 6:00AM to 2:00PM
Tuesday - Saturday: 6:00AM to 6:00PM
Phone
585 241 3120
Wheelchair Accessible
Yes
Website
Facebook
Baker Street Bread Co. is a bakery on Park Avenue. They offer cookies, cakes, pies, pastries, and bread.
Comments:
Note: You must be logged in to add comments
---
2007-03-30 01:45:28 Apparently 2 Vine gets its bread from here. —TiffanyNg
---
2008-06-24 19:48:19 They have fantastic sourdough bread!! I have been told it's comparable to San Francisco —JenniferWynne
---
2008-08-28 12:18:24 I've tried their baguettes and classic pan loaves and didn't care much for either. Pretty sure that I won't be going back. —VikramManjunath
---
2009-11-07 18:13:44 I visited Baker Street Bakery for the first time today. They were very friendly and have a great selection of breads, scones, cookies, cupcakes, etc— all very tempting! I got a baguette and sourdough loaf, and both are quite tasty, in my opinion. I also got some cranberry orange scones which smell delightful, but I haven't gone on total carb overload today :) so I don't know how they are! —OxfordWriter
---
2011-01-05 09:11:46 Generally happy with the quality. Breads and sweets never fail to be good. But, I especially like them for last minute cakes. Their small (4-8 person) cakes out of the case are inexpensive and always very good. —RachaelT
---
2011-03-01 15:16:44 They were very friendly. But their pastries were disappointing, we had the eclair and cupcakes and neither of them was very good. Their sourdough bread, on the other hand, was really tasty, and they have Pittsford Dairy Chocolate Milk.
I will go back, just not for pastries. —EmRosario

---
2012-04-01 01:48:31 I love this place. The "classic pan" bread loaf is amazing and amazingly cheap at just $3. —ACW24
---
2014-02-19 18:19:17 The best chocolate croissants! —jcs3636