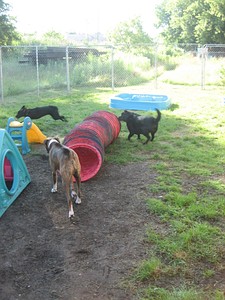 Barks and Recreation Inc. is a doggy day care and training service in Victor.
DAYCARE
Daycare is an environment for your canine kid to socialize with other dogs and get some exercise while being supervised by one of our experienced daycare counselors.
We are CRATE FREE!!
We provide a small home like atmosphere. We only allow 10 dogs per day in our program, thus to provide personalized pack socialized attention.
We also offer Train N' Play: Private training session during your "fur kids" daycare day. We provide 1 hour of private training on what ever you and your dog needs a little extra help on.
TRAINING
At Barks and Recreation Inc., our dog training professionals encompass our philosophies and share our goals. Our dog handling and training methods come from the reward-based, positive reinforcement school of thought. Classes are meant to encourage stronger relationships, build a foundation for good canine citizenship and create happy, social and well-rounded dogs. Thus our classes are small, limited to 6 dogs per class for a more personalized session.
Obedience Classes: Little Tykes 1 and 2, Basic, Advanced (CGC), Tricks and more.
For more information regarding all of our services please visit our web site: www.nygonetothedogs.com or call us at 585-924-3426.
Comments:
Note: You must be logged in to add comments