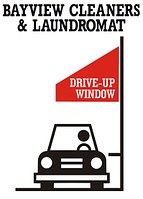 Bayview Cleaners & Laundromat Logo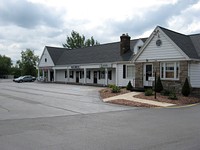 View from the street
Company sign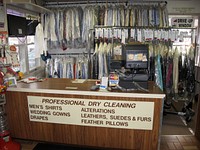 Service desk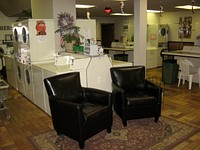 Comfy chairs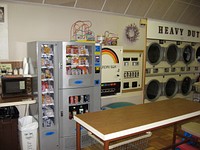 Vending machines
Location
1183 Bay Rd, Webster NY, 14580
in Bayview Commons
Hours
Daily: 7:00AM to 10:00PM
(Last wash start: 8:30PM)
Phone
585 671 3450
Website
http://www.bayviewcleanersandlaundromat.com
Washers and Dryers
Number of Washers: 32
Number of Dryers: 38
Largest Washer Size: 50 lb
Largest Dryer Size: 50 lb
Price
Wash: $1.75
Dry: $0.25 / 14 min
Amenities
Large, Well-Lit, Free Parking
Children's Play Area
Free Wi-Fi Internet Access
Video Games
Friendly & Knowledgeable Attendants
Snacks/Soda Vending Machines
Family-Sized Washers
Bright & Comfortable Location
Big-Load Washers
Clean Restrooms
High-Efficiency Dryers
Brand-Name Selection of Supplies
Drive-up Window
Accept Competitors Coupons
Bayview Cleaners & Laundromat is a laundromat and dry cleaners located 2/10 of a mile north of the Eastway Wegmans on Bay Road across from Flaherty's Three Flags in Webster/Penfield. Bayview has served Rochester for 28 years and has been voted "Rochester's Best Laundromat" five times.
It has free Wi-Fi, free parking, a fair number of outlets, comfy chairs, and a big LCD TV on the wall. There's a children's play area stocked with video games. It's very bright and clean, and the attendants and patrons are always friendly.
There are vending machines, or even better it's within easy walking distance of Wegmans and quite a few restaurants and shops.
They have 70 washer/dryers, including 22 large capacity machines. They offer drop-off wash, dry & fold service (10 lb minimum) and dry-cleaning. The dry cleaning service extends to wedding gowns (cleaning and preservation), rugs, suede and leather, drapes, curtains, pillows, blinds, UGG® products, and hats. They also offer repairs and alterations. And there's a drive-up window for drop-off and pick-ups.
Cash, checks, MasterCard and Visa are accepted. A change machine accepts $1, $5, $10, and $20 bills.
Comments:
Note: You must be logged in to add comments
---
2009-06-26 22:50:06 I've tried my share of Rochester laundromats, and in my opinion this one is hands down the best. The only one that comes close is the Park Ave Laundromat. —CharlesR
---
2011-03-24 10:54:23 Thank you for supporting Bayview Cleaners & Laundromat! We've just updated this page with some info about the business and new pictures of our facility. We hope you'll visit us soon! —BayviewCleaners&Laundromat