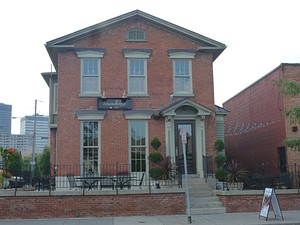 Former Location
289 Alexander St, Rochester, NY 14607
Status
CLOSED (as of March 2013)
It had its grand opening on July 20, 2012.
It closed in March of 2013 and the team moved to ONE.
Comments:
Note: You must be logged in to add comments
---
2012-09-29 19:46:32 Nice ambiance. Limited menu. Food was OK. I liked my wife's House-made Papardelle much better than the salmon dish that I had. The salmon was not bad but needed a little more spice or flavor. My wife and I shared the Utica Greens as our appetizer. This was nothing like the greens I had during the 6 years I lived in Utica. Someone needs to tell them greens are sauteed, not broiled, plus they have hot peppers, potatoes and Sausage. Not bread crumbs. bits on ham and banana peppers —scotthendler

---
2012-10-07 19:12:54 Now that Gusto is gone a small group of us when there last night. Prices are higher and the food is not as good. $10.00 for a glass of house red wine?
I had the 'White' pizza and the arugula was bitter and the crust was tasteless. I had asked for artichoke hearts as a topping and the pieces were so small I had to hunt for them.
No one in our group of 7 was real, real happy.