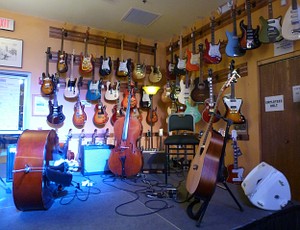 Stage in Bernunzio set up for a performance by
Passive Agressives Anonymous during the 2014 Fringe Festival.
Location
122 East Ave, Rochester, NY 14604
Hours (as of November 2009)
Monday - Wednesday, Friday: 11:00AM to 6:00PM
Thursday: 11:00AM to 8:00PM
Saturday: 9:00AM to 4:30PM
Phone
585 473 6140
Wheelchair Accessible
Yes
Email
<info AT bernunzio DOT com>
Website
http://www.Bernunzio.com
Bernunzio Uptown Music was the first retail store in the Sagamore on East building. John and Julie Bernunzio have been buying, selling and trading vintage stringed instruments for over 20 years. John is one of the foremost banjo experts in the world, and was just recently quoted by Forbes magazine in an article about the viability of the banjo speculation game. For years the business was known as "Bernunzio Vintage Instruments," and subsisted mainly on mail order (and later internet) sales, but they felt that opening a new music store downtown would be a good way of giving back to the community.
Bernunzio also has space for a stage and frequently hosts small concerts.
Located in the East End.
Comments:
Note: You must be logged in to add comments