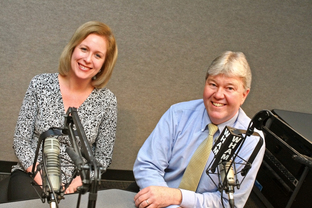 Pictured left to right are Beth Adams and her co-host on the WHAM 1180 Morning Show, Chet Walker
Beth Adams Pitoniak is a well known, longtime radio host who co-hosted the WHAM 1180 Morning Show (5:00am-9:00am) from 1992 to 2011 with Chet Walker. She is also known for her various commercial spots on television and radio.
Beth grew up in a suburb of Buffalo, and attended Buffalo State College, graduating in 1985. She then got a job on the morning news in
Ithaca, and roomed in an apartment with Ginny Ryan (who is currently the co-anchor on WHAM TV-13).
She is married to notable Democrat & Chronicle sportswriter Scott Pitoniak.
On 11/23 the D&C announced Beth will be joining WXXI as their morning broadcaster.