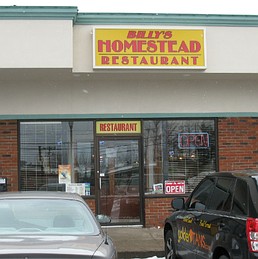 Feb 2010, BradMandell
Location
1778 Empire Boulevard, Penfield, NY 14580
Hours (as of April 2010 per phone call)
Monday-Thursday: 6:00AM to 2:30PM
Friday: 6:30AM to 8:00PM
Saturday: 6:30AM to 2:30PM
Sunday: 6:30AM to 2:00PM
Phone
585 671 0652
Accessible
Yes
Billy's Homestead is a family restaurant/diner on Empire Boulevard in the Sunrise Plaza; south of Baytowne Plaza close to Home Outlet.
Serves breakfast.
Comments:
Note: You must be logged in to add comments
---
2009-08-05 15:21:04 great breakfast. fills up quickly so expect a wait if you dont get there early enough. —limeylimer
---
2009-10-09 11:15:52 One of the best diners in Rochester! They have good size portions that will give you at least one more meal that day, and the quality of the food is good also. They manage to do this for a very reasonable price. The staff are so friendly and welcoming, and know a lot of customers by name. They are very attentive and I don't think I've ever seen the bottom of my coffee cup! Even waitresses that aren't yours will make sure you have a top-up. There can be a wait at certain peak times, but this just speaks to the places popularity. The wait is usually no more than 20 minutes, and is totally worth it.
No weekend is complete for us without a breakfast at Billy's. —Dlacy