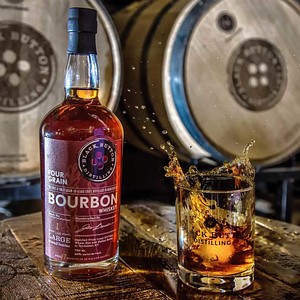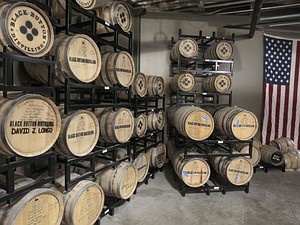 Tasting bar.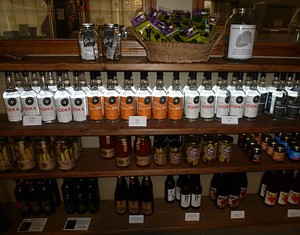 Gin, vodka, and moonshine for sale, along with other products.
Location
85 Railroad Street, Rochester, NY 14609
Hours (as of August 1, 2014)
Tuesday - Friday: 12:00PM to 6:00PM (6-8 with a reservation)
Saturday: 9:00AM to 5:00PM
Sunday: Closed
Phone
585 730 4512
Wheelchair Accessible
Yes
Alcohol
Yes
Email
<cheers AT blackbuttondistilling DOT com>
Website
https://BlackButtonDistilling.com
Facebook
Twitter
Instagram
Black Button Distilling is Rochester's first legal craft distillery since Prohibition. They also have a tasting bar. Located in the Market District, they produce vodka, gin, and whiskey from New York grains. Available for immediate sale are both un-aged whiskies and whiskies that have been aged for two years in barrels. Merchandise is available for purchase on the website.
Black Button drinks may also be found at various bars, restaurants, and liquor stores in the City of Rochester and the surrounding area. See the website for a
complete list.
Black Button opened December 21, 2013.
Awards
Voted "Best Regional Distillery" in City Newspaper's 'Best of Rochester' Awards in 2015.1
Links
Comments:
Note: You must be logged in to add comments
---
2015-09-03 09:38:47 Worthy of note: In 2015 Wine and Food Enthusiast named Black Button's Citrus Forward Gin the official "Gin of Summer" Also in the Summer of 2015 they one the NYS Governors Cup for best spirits. —CalinLawrence