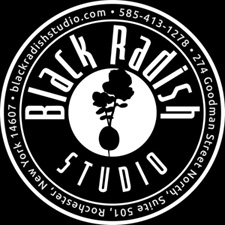 Location
274 N. Goodman Street, Suite 501, Rochester, NY 14607
Hours (as of Jan. 2012)
Monday - Friday: 10:00AM to 6:00PM
Saturday: 12:00PM to 6:00PM
Phone
585 413 1278
Fax
585 413 1304
Wheelchair Accessible
Yes - back entrance
Alcohol
Yes (gallery openings)
Email
<info AT blackradishstudio DOT com>
Website
http://BlackRadishStudio.com
Facebook
Twitter
Black Radish Studio is an art gallery and custom framing studio in the Neighborhood of the Arts. It is owned by Sean DeChalais, a former employee of the Chase-Pitkin framing department, The Ansel Adams Gallery in San Francisco, NPFC in San Francisco, and Rye Creek Frame and Design in Rochester. Custom framing is BRS's speciality. They cater to a wide array of clientele ranging from casual enthusiasts to fine art collectors.
Black Radish Studio invites those with complex framing needs: shadow boxes, needlework, and mirrors, to name a few. Their framing experience covers a number of media, including sports memorabilia, music media (vinyl records, concert prints, autographed memorabilia), family photos, oil and acrylic paintings on canvas, and prints and posters. Technical specialties cover a range of archival framing methods and custom matting. At BRS, custom matting includes hand-painted mat bevels, watercolor mat panels, acrylic mat panels, custom gold, copper, and silver leaf matting, India ink mat panels, and hand-wrapped fabric mats.
Gallery openings are on First Friday. First Friday's are the first Friday of the month from 6:00pm-10:00pm. Attendance is free of charge.
Black Radish Studio is located in the Village Gate and can be accessed through a door next to the "D" entrance, on the Anderson Avenue side of Village Gate. They opened in July 2011.
Comments:
Note: You must be logged in to add comments