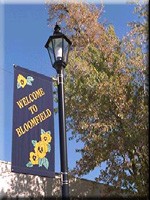 Official Name
The Village of Bloomfield
Location
South-South-East of Rochester
(Google Maps)
Geographical Area
39.73 sq. miles
Population
1,267
Village Office
12 Main Street / PO Box 459
Bloomfield, NY USA 14469-0459
Hours
Monday-Thursday: 9:00AM to 4:30PM
Phone
585 657-7554
Website
http://www.BloomfieldNY.org/
History
Bloomfield, originally part of the Phelps and Gorham Purchase, was formed in 1789 and included Mendon, Victor, East Bloomfield and West Bloomfield. The town of East Bloomfield was defined in 1833.
Benjamin Keyes purchased most of the land that constitutes the present-day village from Oliver Phelps in 1794 and that year his large family started settling the village. Our pioneer settlers from New England arrived here in 1789 and proceeded to develop agriculture as the primary industry. The village became a bustling community in the first half of the nineteenth century, offering many agriculture-related businesses to the vicinity. The residents prospered and built many lovely houses that fortunately have survived to the present day.
The walking tour starts in historic Elton Park and proceeds around the village's Historic District. Click the link at the right to view (and print) a detailed map and descriptions of over 50 historic homes and buildings.
Businesses
Notable Attractions
Schools
Major Roads
Related RocWiki Links
Comments:
Note: You must be logged in to add comments