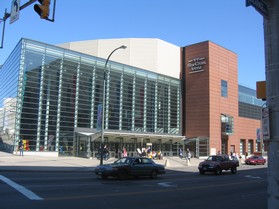 Blue Cross Arena, May 2007, photo by DavidHowe
Originally named the "Rochester Community War Memorial" , it was later renamed the "Blue Cross Arena at the War Memorial" when naming rights were sold to help fund reconstruction and expansion. That has been (inappropriately) shortened by many to simply the Blue Cross Arena.
The Rochester Amerks hockey team, Rochester Knighthawks indoor lacrosse team, the Rochester RazorSharks basketball team, and the Rochester Lancers indoor soccer team play their home games there. High school basketball players often refer to the building as "The Big House" during the Section V basketball playoffs held there each February. The venue also hosts a variety of other events throughout the year such as: concerts, circuses, ice shows, conventions, graduations, etc.
The arena has its own unique address, but it essentially fills the entire block on Exchange Boulevard between Broad Street and Court Street. Right in the middle of downtown, it's near the Central Library, Dinosaur Bar-B-Que, the Rochester Riverside Convention Center, and the HQ of the Democrat & Chronicle. The downtown section of the Genesee River Trail runs by it, and the Abandoned Subway runs under the street next to it.
Parking for events at the Blue Cross Arena is available on surrounding surface lots, across the street in the Civic Center garage, and across the river in the South Avenue garage.
To participate in a survey on local architecture visit,
Rochester Archipedia Survey
---
Comments:
Note: You must be logged in to add comments
---
2007-02-18 10:45:07 Desipte that, people call downtown dead... —FarMcKon
---
2007-10-02 16:15:47 DarrenKemp suggests that visitors keep an eye out for Conehead. —DaveMahon
---
2013-01-12 23:28:25 whenever i go here, i park on the street. —Damiankumor