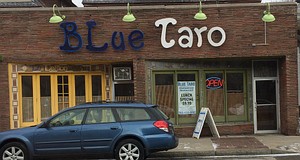 Blue Taro, January 2018
Blue Taro is a Vietnamese Restaurant in the Upper Monroe neighborhood serving vegan and non-vegan cuisine. Located in the old Le Lemon Grass location. Opened December 1, 2017; closed temporarily for renovations in January 2020, remained closed during the pandemic, and reopened in April 2022.
On Saturdays, Blue Taro operates a stall in the B shed (the indoor shed) at the Rochester Public Market. The Market location has a smaller menu focusing on appetizers, sandwiches, and bubble tea.
Comments:
Note: You must be logged in to add comments