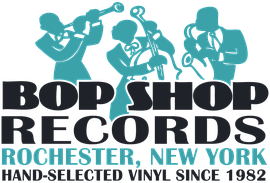 Bop Shop Records Logo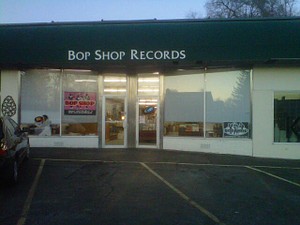 Outside, 2-2012
Bop Shop Records is a unique, independently owned record shop that specializes in blues, jazz, rock, classical and American roots music styles (such as soul, rockabilly, folk, surf rock and doo-wop), plus Celtic and English folk. There is a huge selection of new, used, and vintage vinyl LP's, 45's, and CDs in all musical styles. The store and its owner, Tom Kohn, are an integral part of our local music scene. The Bop Shop also hosts a semi-annual record show and well as concerts with the owners of Lovin' Cup.
Bop Shop Records (aka The Bop Shop) was RocWiki's Business of the Month for March 2012!
On November 5, 2011, Bop Shop owner Tom Kohn
disclosed that his Village Gate lease was not being renewed. On November 19, a new location was announced at the Bel Aire Plaza in Brighton. It opened unofficially in January 2012 and had a grand re-opening that March.
More Photos
Original Village Gate Location
Comments:
Note: You must be logged in to add comments
---
2005-05-13 08:01:11 I love the Bop Shop. Everytime I have been there, the staff has always been friendly and helpful. By far, they are my favorite place to shop for music in the city. —JasonWilder
---
2006-04-30 18:42:44 One of the best Jazz collections in the country! Has a great vinyl selection as well as extensive CD's. —BrentIrvine
---
2006-08-17 11:48:00 Bop Shop Records also sponsors numerous live concerts in the Atrium in Village Gate. Check out the website for upcoming events. —YankeePeddlerVol2
---
2007-08-27 00:40:28 Oh how i adore thee. I've been going to the bop shop now for about 12 years. This is the store that started my constant growing record collection. The staff have always been extremely knowledgeable in ALL genres of music. The posters in the bop shop are totally killer, and they even have an entire section of their ceiling dedicated to really pretty girls.
This is my favorite music store of all time and always will be. —PaulineColes

---
2007-11-15 21:50:48 THE place for music in Rochester. Period. —JackPorcello
---
2007-11-16 12:10:52 I have been shopping here since the beginning of time. Tom and his staff have been great to me and my wife: knowledgeable, accommodating of my musical quirks, and resourceful. The concerts are the best in town. Eugene Chadbourne! Dave Douglas! Roswell Rudd! Steve Lacy! Willem Breukker! the list goes on. —RxScabin
---
2007-12-15 11:52:17 Amazing Store! Extremely organized and well stocked will ALL music! Very knowledgeable and friendly staff as well. Only complaint is vinyl prices, which are a bit steeper than Goldmine or standard prices. Excellent to near-mint copies are easily $20-$60 (sometimes 10's of dollars over Goldmine NM standards) so save your bread for the ones you really want. I could spend hours here just looking! —LinusGreen
---
2008-12-17 18:34:59 They have a really good selection of '60s era Folk Vinyls —alx1812
---
2009-01-31 16:14:06 It's always fun to poke through the bargain bins outside the store. You'll make some amazing finds but you'll most likely be disappointed when you get home and the record is scratched beyond playability. Their vinyl collection inside is great and reasonably priced. I made an amazing Jimi Hendrix find last time I went in. May the Bop Shop live on forever! —BatGuano