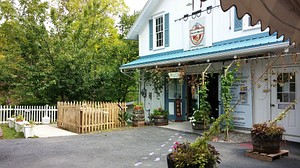 Location
6461 BB State Route 64, Naples, NY 14512
Hours (as of August 2016)
May to October
Friday – Sunday: 12:00PM to 9:00PM
November to April
Saturday: 12:00PM to 9:00PM
Sunday: 12:00PM to 7:00PM
Phone
585 374 2870
Wheelchair Accessible
Info Needed
Alcohol
Yes
Email
<info AT brewandbrats DOT com>
Website
http://BrewAndBrats.com
Facebook
Reviews
TripAdvisor
Brew & Brats at Arbor Hill is a bar and restaurant at Arbor Hill. They focus on the local historical significance and enjoyment of hops, an integral ingredient of beer. The towns of Bristol and South Bristol were noted for their hop production, most of which supplied the McKechnie Brewery of Canandaigua in the late 1800s and early 1900s.
Brew & Brats opened in 2011.
Brews
Bristol Springs Brand craft is served exclusively at Brew & Brats. The Frog Hollow Pale Ale, Gully Washer IPA and Turtle Crawl Porter were produced for Brew & Brats by CB Craft Brewers (formerly Custom Brewcrafters) of Honeoye Falls. They also feature a craft beer from another local microbrewery on their fourth tap.
Brats
Arbor Hill partnered with Artisan Meats from Canandaigua to produce their brats. The sausage is made with Arbor Hill
Sherried Wine BBQ Sauce, which has been a staple at Arbor Hill almost since the winery opened in 1987. The original formulation was developed by Neapolitans Darryl Braun and Doug Preston.
Events
There is live music on Fridays and Saturdays from 6pm to 9pm. A special events calendar is maintained on their
website. Musicians who would like to perform at Brew & Brats at Arbor Hill are encouraged to contact them.
Comments:
Note: You must be logged in to add comments