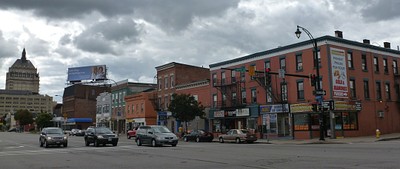 State Street, looking towards the High Falls District. (Sept. 2012)
Brown Square is a neighborhood in Rochester's Northwest Quadrant. It is a mix of commercial, residential, and light industry. Brown Square Park is its green space. It was settled by Italian, German, Irish, and Puerto Rican immigrants and remains a very diverse area. Considered part of the Crescent of Poverty, unfortunately.
Establishments
Located primarily on State Street.
Food and Drink
Industry
Retail
Services
Other
Links
Comments:
Note: You must be logged in to add comments