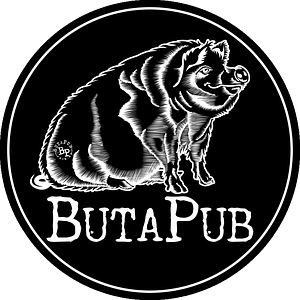 Location
315 Gregory Street, Rochester, NY 14620
Hours (as of January 2015)]
Kitchen Hours:
Monday to Friday
All Day Menu: 11:00AM to 1:00AM
Saturday Brunch: 10:30AM to 3:00PM
Saturday Dinner: 4:00PM to 1:00AM
Sunday Brunch: 11:00AM to 3:00PM
Bar Hours:
Monday - Friday: 12:00PM to l2:00AM
Saturday: 10:30AM to 2:00AM
Sunday: 12:00PM to 4:00PM
Phone
585 563 6241
Wheelchair Accessible
Yes
Alcohol
Yes
Email
<events AT butapub DOT com>
Website
http://ButaPub.com
Facebook
ButaPub is a gastropub with menu inspiration from Asia. Food includes ramen, banh mi sandwiches, and standard bar fare such as wings and burgers. Catering and delivery available. They also do brunch.
ButaPub is located in the German House, in the South Wedge neighborhood.
Opened November 26, 2014.
Awards
Voted "Best New Restaurant" and "Best New Bar/Club" by City Newspaper's 'Best of Rochester' Awards in 2015.12
Comments:
Note: You must be logged in to add comments
---
2014-11-23 19:44:14 Does this mean Zeppa Bistro is closed? —scotthendler
---
2014-11-24 07:46:59 Yes, they are closed. —EileenF
---
2015-01-07 11:52:52 Hi - the hours at ButaPub are as follows, if someone would mind updating them:
Kitchen Hours:
Monday to Wednesday
Lunch 11am-3pm
Dinner: 5pm-10pm
Thursday & Friday
Lunch 11am-3pm
Dinner 5pm-12am
Saturday
Dinner 5pm-12am
Sunday Brunch
11am-4pm
Bar Hours:
Monday-Wednesday
11am-late
Thursday & Friday
11am-2am
Saturday
4pm-2am
Sunday
12pm-4pm —EvanParkerPierce

---
2015-01-10 09:27:22 Had a great dinner with friends here. Sharing plates allowed for us to try many things on the menu. Each dish was interesting and worthwhile. The skirt steak wraps and pork belly buns were most popular. We didn't love the poutine. Atmosphere is a comfortable middle ground between bar and fine-dining, alive but not too loud to converse. The beer list had something for everyone at uncommonly-reasonable prices, which was a nice plus. —jasons
---
2015-01-17 20:42:32 Busy, friendly, great food & good beer selection. —thomaspawlik
---
2015-04-01 21:41:33 A great addition to the Wedge. Mixed crowd, which was nice to see in a place that could easily lean more hipster than welcoming. Tried quite a few things - the wings and fish fry could be skipped (good but nothing special) but the roasted cauliflower and pork buns were delightful. I'd like to go back for brunch. —smlusk
---
2015-04-02 20:34:34 Good food but not a big fan of the space itself - still feels like a basement to me. But I think they've done all they can with it. —EileenF
---
2015-09-01 09:56:56 Great space, excellent service (even on really busy trivia nights), and a very interesting/tasty menu. I'd recommend it for sure! —davidgottfried