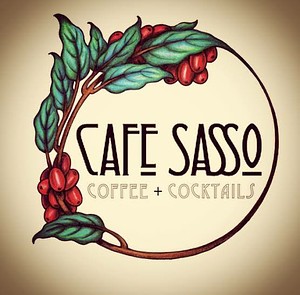 Logo
Location
739 Park Avenue, Rochester, NY 14607
Hours (as of May 2015)
Monday - Thursday: 7:00AM to 10:00PM
Friday - Saturday: 7:00AM to 11:00PM
Sunday: 8:00AM to 10:00PM
Phone
585 697 0235
Wheelchair Accessible
Yes
Alcohol
Yes
Email
<cafesassorochester AT gmail DOT com>
Website
Facebook
Reviews
2016-01-12 The Odyssey
Café Sasso is a coffeehouse and café on Park Avenue. The menu features breakfast sandwiches and many vegan and gluten-free options. Coffee is from Boulder.
Café Sasso identifies very much as a second-wave coffeehouse. Says one of the owners, "You walk into these [third-wave] coffee shops and it's usually no art on the wall, very minimalistic science-y lab and that's cool, and that's been hitting big the last four years. . . We're old school; we're like the 1960s poetry, art music - independent second wave is not going anywhere. We're here, we're strong."1 The interior is done up in an Art Nouveau style.
The location was previously the Park Ave Boulder. It was purchase in 2015 by longtime employees Peter and Jessica. The word sasso means "stone" in Italian, an homage to their origins. They reopened as Café Sasso in May 2015.
Comments:
Note: You must be logged in to add comments