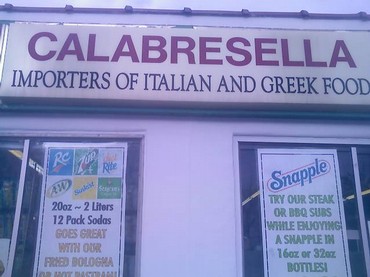 Calabresella - photo by DarrenKemp
Location
Phone
Hours (as of September 2019 per Facebook)
1386 Buffalo Rd., Rochester NY, 14624
585 235 7860 or 800 285 3791
Monday - Friday: 9:00AM to 6:00PM, Saturday: 9:00AM to 4:00PM
210 Park Avenue, Rochester NY, 14607
585 356 4460
Monday - Sunday: 8:00AM to 8:00PM
146 North Main Street, Fairport NY, 14450
585 598 3510
Monday - Saturday: 8:00AM to 8:00PM, Sunday: 8:00AM to 6:00PM
Accessible
Yes
Email
<Sales@NYStyleDeli.com>
Website
http://www.NewYorkStyleDeli.com
Facebook
Reviews
2011-03-14 RochesterFoodNet.com
City Newspaper
Calabresella is a specialty grocery store/deli in Gates. They offer hot and cold sandwiches made to order and many Italian and Greek imported foods. They also offer a large selection of local to Rochester products such as Zweigles, Country Sweet, Dinosaur Bar-B-Que and many more. Their website allows out of towners and former Rochesterians to order local goods and have them shipped.
On May 29, 2019, they opened a second location on Park Avenue in the old Great Harvest Bread Company location.
On September 19, 2019, they opened a Third location in Fairport.
Comments:
Note: You must be logged in to add comments
---
2008-01-04 11:24:52 Tasty made to order sandwiches at reasonable prices, good service, good selection of imported goods. —DarrenKemp
---
2008-01-11 13:05:58 Best subs in Rochester, without a doubt. Thank god I work near the place or I never would have known about it. Low prices too, and the subs are huge. The selection of local sauces and foods is fantastic also. —GeorgeBluth
---
2008-01-12 09:28:46 The Vince! Best sub ever hands down! —BobStewart
---
2010-10-30 11:30:11 Whenever I come home, I have to bring at least 4 or 5 of their Steak Sandwiches back to Atlanta..They make the best Steak Sandwiches HANDS DOWN in ROchester!!!! —WylWard
---
2012-06-07 10:32:24 Finally made a trip here and I'm so happy I did. Ordered a large Italian Assorted — it was *loaded* with a wonderful mix of meats. Good rolls too. The price for a large was <$1 more than DiBella's small and it was so much better. My new fave sub place and worth the drive to Buffalo Rd. Bummed it isn't open on weekends. —LizDee
---
2012-12-21 21:02:51 Awesome deli meats. Very good prices as well as specials. This is a very nice deli. —rlsmith