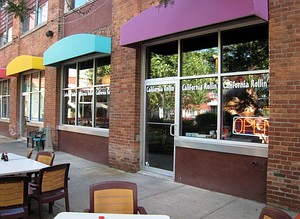 Entrance off the Village Gate courtyard, 8-2008
California Rollin is a restaurant serving Japanese food. Their original location is the Village Gate in the Neighborhood of the Arts, while their second location is in the Port of Rochester in Charlotte known as California Rollin II; the two locations are under separate ownership.
As the name suggests, they serve American West Coast-ish sushi, much of which is named after places and things in Rochester (South Wedge Roll anyone?)
There was at one point a third location in Brooks Landing that opened in March of 2013 but closed in December.
On March 31, 2016, they opened a new third location on Park Avenue called California Rollin II express. Closed in 2017.
As of October 17 2019, the Village Gate location closed. 1
Awards
Voted "Best Sushi" by City Newspaper's 'Best of Rochester' Awards in 2015.2
Comments
Discuss California Rollin' on the Talk Page.