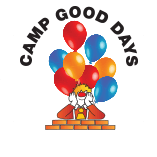 In late 1979, after the death of his youngest daughter Teddy to malignant brain cancer, Gary Mervis started Camp Good Days and Special Times as a nonprofit organization to help bring happiness to people whom needed it the most.
With the help of numerous sponsors and volunteers, Camp Good Days and Special Times has turned into a worldwide organization, even hosting foreign cancer victims as guests. Campers go to Keuka Lake in upstate New York for recreational camping and fun. Over the years thousands of children, including those with cancer, HIV, family members of homicides, etc. have gone camping with the organization. All amenities, including food, transportation, activities, medical assistance while at camp are free of charge for the campers.
Some of the fund raising events are the Finger Lakes International Wine Auction held in Rochester, and the annual Courage Bowl football game. All proceeds go to the camp.
They have offices in Buffalo, Syracuse, Ithaca, and Orlando, FL.
Comments:
Note: You must be logged in to add comments
---
2007-05-01 19:47:35 I am extremely familiar with the Mervis family. I went to school with Teddy for a year before she passed. These are good people and the camp is an incredibly worthy charity. I attend the sports dinner every year that is a fundraiser for the camp. —PeteB