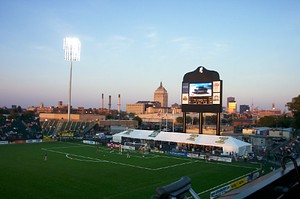 Vincent Monroe Capelli Sport Stadium is the current name for the stadium that is owned by the City of Rochester and host to the Rochester Rhinos (
USL) and (returning in 2017) the Rochester Rattlers (
MLL). It was previously the home of the former WNY Flash (
WPS). It is located in the JOSANA Neighborhood.
The stadium opened on June 3, 2006 only a few blocks from the Rhinos' old home at Frontier Field and was built to serve the local teams and fans of sports played on a rectangular surface. Ample public financing from New York State made the construction of the then PAETEC Park very controversial, especially in light of the private ownership of the park. However, the former brownfield site in a struggling part of the city was briefly on the tax rolls and hosts a number of events each year.
In addition to soccer and lacrosse matches, the stadium is scheduled to host football games, drum and bugle competitions, charity walks, concerts and Section V high school competition. Moreover, the Rhinos management was confident that the park makes it much easier to host international soccer friendlies and Men's and Women's National Team matches.
Officials of the annual "Courage Bowl" (football game) between St. John Fisher and the University of Rochester announced plans to move from on-campus sites to the stadium in 2010.1
Naming of the Park
2017

On January 24, 2017, an agreement on naming rights with New York City-based Capelli Sport was announced. Length and price of the arrangement were not disclosed.

2016

With no suitable sponsorship agreement available for 2016 the venue was renamed Rochester Rhinos Stadium.

2011-2015

On February 10, 2011, it was announced that the new name of the stadium would be Sahlen's Stadium after the deal with Marina Auto expired. This was part of a multiyear naming rights agreement with Sahlen's Packing Company, Inc. of Buffalo, NY. The cost of the agreement was not released, but was estimated at about $2 million.

2009-2010

Marina Auto Stadium (sometimes referred to as Marina Auto Park): At the halftime for the Rhinos' homeopener against the Montreal Impact, held May 30th, 2009, Marina Dodge was declared the winner in the naming rights pool of 328 entries. They chose the name Marina Auto Stadium which will remain the name for the entirety of the 2009 season.2. Marina Dodge negotiated keeping the name for 2010. Marina has been a team sponsor since 1996 and purchased 25 of the 328 $1000 entries to win the name in 2009.3

2006-2009

PAETEC Park (named for PAETEC) is the former stadium name. On December 11, 2008 it was announced that PAETEC Holding Corp. would not renew their naming rights agreement when the contract expires in April 2009. The former http://www.paetecpark.com website is now dead.
State Audit
"The state initiated an audit of the Rochester Rhinos stadium project in June 2008 to determine whether $19 million in state grant money was used properly. The money was meant to help fund the stadium's design and construction. The city took ownership of the stadium after the prior owner defaulted on a loan. The audit was conducted at Duffy's request.


...


Due to the lack of due diligence performed on the Rochester Rhinos Soccer Stadium project, one local and two state agencies did not undertake sufficient review and oversight to ascertain whether a $19 million public grant was a good investment of taxpayer dollars, according to an audit released by State Comptroller Thomas P. DiNapoli at a Rochester news conference today

" 4
Comments:
Note: You must be logged in to add comments
---
2009-06-02 06:48:32 The park is currently listed as Rhino Stadium on the Rhino's website. See also the details of the naming actions on
Wikipedia Rochester Rhinos Stadium —BradMandell
---
2010-04-15 08:25:10 The Wikipedia article in my 2009-06-02 comment now redirects to the new Wikipedia article in the header above. My research shows the City of Rochester still as owner of the stadium from when it was taken over due to defaults on bank loans by the previous owners. —BradMandell
---
2010-04-15 08:40:17 Discovered that the name Marina Auto Park is used in the Buffalo media and in the Pop Warner HS football press - some articles have 5 or 6 references split between the two names. —BradMandell
---
2011-04-06 18:38:10 I'm kind of sad to see that a Buffalo company is going to get its name plastered above our fine city instead of our local Zweigle's. However, if you've ever been to Ted's in Buffalo, Sahlen's makes a good foot-long dogger. —BatGuano
---
2011-07-20 09:23:15 The /New York Times/ soccer blog mentions Sahlen's Stadium today -
http://goal.blogs.nytimes.com/2011/07/20/after-world-cup-a-leagues-smaller-stage/ - and links to this RocWiki article! Recognition at last.... —MarkJackson
---
2012-07-21 08:16:26 I have been here for one lacrosse game. Parking at the stadium was easy to get in and out. Even if the stadium isn't in the best section of town, I felt safe while at the stadium. —bonnev659
---
2017-01-24 11:59:35 "Sahlen's Stadium" (2010-15) was followed by "Rochester Rhinos Stadium" (2016); "Capelli Sport Stadium" is the new name, announced today (
http://www.democratandchronicle.com/story/sports/soccer/2017/01/24/capelli-sport-stadium-new-name-rochesters-downtown-soccer-park/96982750/) —markjackson