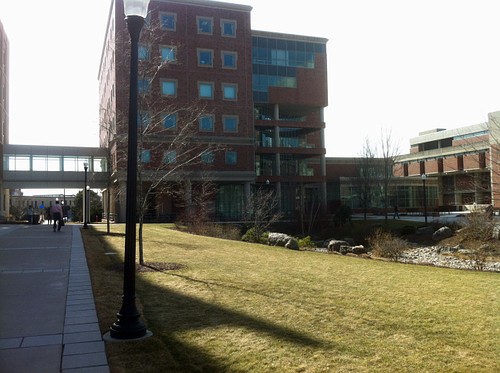 Exterior of the Computer Sciences Building
Location
160 Trustee Road, Rochester, NY 14627
Hours (Feb. 2012) -
Exceptions
Library Hours
Monday - Thursday: 8:00AM to 2:00AM
Friday: 8:00AM to 12:00AM
Saturday: 10:00AM to 12:00AM
Sunday: 11:00AM to 2:00AM
Information Services
Monday - Thursday: 10:00AM to 6:00PM
Friday: 10:00AM to 5:00PM
Saturday - Sunday: 1:00PM to 5:00PM
Phone
Phone: 585 275 4488
Circulation: 585 275 4488
Reference: 585 275 4465
Email
See
website for staff emails
Website
Flickr
Wikipedia
YouTube
Carlson Science and Engineering Library, named in honor of Chester Carlson, is part of the library system at the University of Rochester. While Rush Rhees Library is the largest university library, Carlson is frequented by undergraduate and graduate students in the natural sciences. The library stocks general and popular science journals as well as materials related to biology, chemistry, computer science, earth science, engineering and mathematics and statistics.
The Carlson Science Library was established in 1972 via the merger of the Chemistry and Life Sciences Libraries along with the core Mathematics and Statistics collections. In 1987 the Engineering Library merged with the Carlson Science Library to create the current Carlson Science and Engineering Library.
Carlson sits on the south end of the River Campus, in the Computer Studies Building, and connects to Hutchison Hall and the Hylan Building.
Photo Album
Images copyright the River Campus Libraries. Used with permission.
See Also