About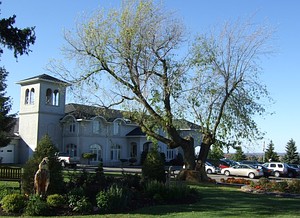 Photo Oct 2008 BradMandell
Casa Larga Vineyards (aka Casa Larga Winery), famous for its
Ice_Wine, is a winery and event location in Fairport. Their "Fiori Vidal" Ice Wine has won numerous honors, including Best Wine at the 2008 "Taste of Buffalo".
"In 1974, Andrew Colaruotolo started Casa Larga Vineyards as a hobby, seeking to produce wine remeniscent of wines produced by his family's vineyard in Italy. Casa Larga's first 3 wines were produced in 1978, earning silver and gold medals in the first competition in which they were entered. Now, 40 years later, Casa Larga Vineyards continues this tradition of excellence - producing high quality, award winning wines, and growing to be one of the leading wine producers in New York's Finger Lakes Region."1
Casa Larga Winery includes the actual winery and vineyards (with tour), and Wine & Gift shop with wine tasting. The adjoining
Bella Vista at Carsa Larga Event Center services "wedding receptions, formal gatherings, corporate business meetings, anniversary parties, bar and bat mitzvahs, or any special event."
Although listed on the Canandaguia Wine Trail, Casa Larga's vineyards are located atop a hill southeast of Fairport.

"The Vineyards at Casa Larga occupy 45 acres of land, located atop one of the highest points in the Finger Lakes region. Rich Ontario sandy loam soil, brought here by glaciers at the end of the Ice Age, makes our vineyards one of the best places to grow grapes in the Finger Lakes."2. See the Vineyards from Google on Wikimapia.org
Awards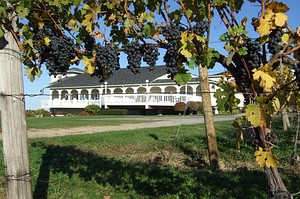 Photo Oct 2008 BradMandell
Casa Larga was voted "Best Regional Winery" in City Newspaper's 'Best Of' Awards in 2008.3
References
Comments:
Note: You must be logged in to add comments
---
2011-08-09 13:45:53 Nice place, nice reasonably priced wines, and nice family who owns it, thumbs up!