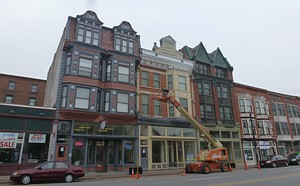 Revitalization work on West Main Street. (Nov.2012)
Changing of the Scenes (COTS) is the neighborhood formerly known as Mayors Heights. It shares a commercial border along West Main Street with the Susan B. Anthony Neighborhood. The Troup Street and Jefferson Terrace parks are located within its borders, as is Nick Tahou's, the inventor of the Garbage Plate.
The neighborhood is currently experiencing extensive redevelopment through the Voter's Block Community project, which includes the construction of a large apartment complex and the rehabilitation of several vintage buildings.
Establishments
Food and Drink
Retail
Other
Links
Comments:
Note: You must be logged in to add comments