Tables waiting for Guests, March 2013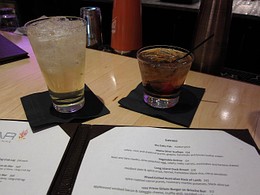 Cocktails for Two, March 2013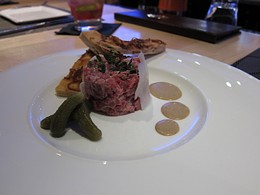 Steak Tartare (hard to find in Roc!), March 2013
Location
550 East Ave, Rochester, NY 14607
Hours (as of December 2015)
Breakfast:
Daily: 7:00AM to 10:00AM
Brunch:
Sunday: 11:00AM to 3:00PM
Lunch:
Daily: 11:00AM to 2:00PM
Dinner:
Monday - Thursday: 5:00PM to 10:00PM
Friday - Saturday: 5:00PM to 11:00PM
Sunday: 4:00PM to 9:00PM
Phone
585 241 7100
Wheelchair Accessible
Yes
Alcohol
Yes
Website
http://www.CharSteakAndLounge.com
Facebook
Reviews
2014-12-24 City Newspaper
Char Steak & Lounge is an upscale restaurant at the Strathallan DoubleTree by Hilton, in the East Avenue Historic District.
It had its grand opening on November 6, 2012.
Comments:
Note: You must be logged in to add comments
---
2013-03-07 09:27:39 Stopped in for dinner two weeks ago on a Saturday night. Cocktail service in the lounge was a very slow. The waitress was very nice, but she seemed to be new. When we were seated, we were brought to the dining room off to the side, and within minutes we asked to be moved to another room since it was uncomfortably hot in there. We were accommodated immediately, and sat at a booth in the bar area. The appetizers, steaks and sides, and homemade ice cream for dessert were excellent. Everyone was very happy with their orders. However, the waitstaff again seemed awkward. Overall we will definitely return; the outdoor patio/firepit was crowded even though it was freezing out, so I'm sure it'll be jammed in the summertime. The food really was tasty, and perhaps the waitstaff just needs some more time to catch up. —jbeez
---
2014-02-03 15:34:30 Been here twice in the last few months and can't say enough good things. Both times, a friend and I sat at the bar and had drinks and snacks. The cocktail menu is excellent and the drinks are well made. Instead of an entree, we ordered a bevy of sides, all of which were delicious (and cheaper than appetizers). Too pricey for me on a regular basis, but well worth the occasional splurge (or if you just want a glass of wine and excellent bar service). —LauraShum
---
2016-12-02 15:25:35 A tad pricey but in line with the portions and quality. Believe it or not, the fish is better than the steak. Generous drink pours. —Cretinx
---
2019-11-04 22:39:05 The desserts here are out of this world delicious. —batguano
---
2021-12-04 10:01:39 Pretty awful now, it was always very expensive, now it is very expensive and cooked poorly.