Charlotte Square is a brownfield site that the City of Rochester acquired and remediated. It is located at
14-58 Charlotte Street.
Christa Development Corporation was working on a plan to develop and build, on approximately one acre of land, an urban style community comprised of 32 for sale condominiums and 8 townhomes. This community will be focused around a centrally located courtyard that will serve all residents. The project is located on the north side of Charlotte St. on the block between Scio Street to the west and Haags Alley to the north.
On April 6, 2015 it was announced that
Home Leasing, the same group renovating the Eastman Dental Dispensary was picked to build 72 apartments, 14 town homes, and a park on the site. Ground breaking is planned for the summer of 2015 with the apartments ready for 2016 and the town homes by 2017.
Link to RochesterDowntown.com page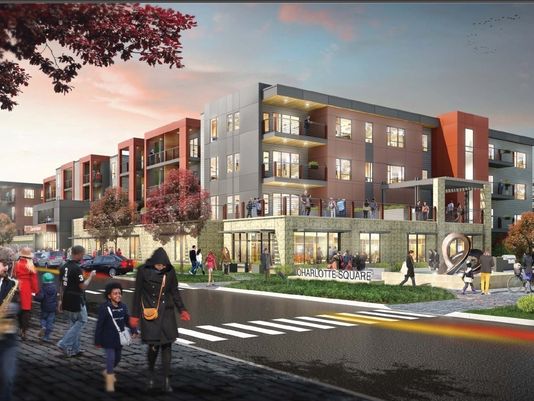 Comments:
Note: You must be logged in to add comments
2011-08-22 18:39:27 I just heard from the REMAX representative for this project and he said that it was not on schedule when I inquired about it. —Fabi2079

---
2015-04-07 16:36:17 I like this MUCH better than the original. —EileenF