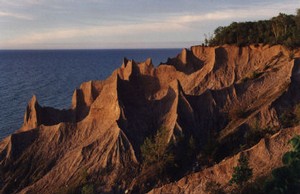 Land and water clash at Chimney Bluffs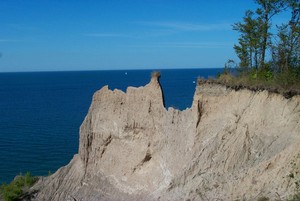 Chimney Bluffs. Photo captured in September 2002 by David Howe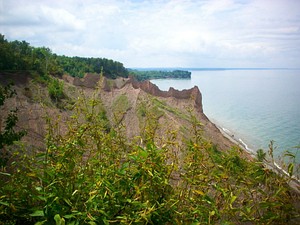 Chimney Bluffs. Photo captured in July 2012
Location
7700 Garner Road, Wolcott, NY 14590
Hours
Open year round from dawn to dusk
Phone
315 947 5205
At Chimney Bluffs State Park land and water clash, sculpting the most dramatic landscape on the Lake Ontario shore. You can experience massive earthen spires from above or along the lakeshore on nature trails. Day-use services include picnic areas, nature trails and restrooms.The buffs are composed of soft clay and mud, formed by erosion of a glacial drumlin.
The park is on the east side of Sodus Bay and convenient for day trips to Sodus Point and the park.
Directions:

Travel east through Wayne County on Route 104, then turn north on Lake Bluff Rd. to the park entrance off Garner Rd. Alternatively, turn north on Route 14 then turn east on Ridge Road which takes you through south end of Sodus Point across the bridge and then turn north on Lake Bluff Rd.
Notes and References

Chimney Bluffs in the News

Feb 19, 2010 Budget Reductions Press Release NY State Park Closures and Reductions - recommends CLOSING Chimney Bluffs along with a long list of other park closures and reductions. Release includes Governor Patterson's statement "In an environment when we have to cut funding to schools, hospitals, nursing homes, and social services, no area of State spending, including parks and historic sites, could be exempt from reductions. We cannot mortgage our State's financial future through further gimmicks or avoidance behavior."


D&C 2/19/2010 Article - Reports on the Press Release. Assembly Tourism and Parks Committee Chairman Steve Englebright, D-Suffolk County was quoted as saying: "the state built parks during the Great Depression, not close them."
Comments:
Note: You must be logged in to add comments
---
2007-03-30 21:08:51 Definitely worth checking out — it's worth noting that all of these formations are soft clay, so don't try climbing around on them —GrahamSaathoff
---
2007-05-15 09:02:07 Beautiful spot for photos. My boyfriend and I went on our first "date" here just hiking around and taking pictures. :) —AdrienneDahler
---
2008-05-21 11:46:58 And what a date it was! ;)
There's also a "hidden" ledge that overlooks almost the entire park. It appears that David Howe found it, from the photo above, but the other direction is a spectacular view all the way down to Sodus Bay. —DevinRosenbauer