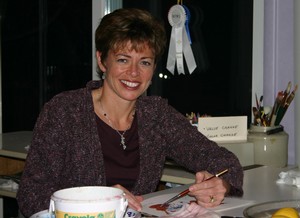 | | | |
| --- | --- | --- |
| Birth name | | Aliases |
| Christine Waara | | Chris Waara |
| Birth date | | Birth place |
| February 26, 1965 | | Ishpeming, MI USA |
| Date of death | | Place of death |
| N/A | | N/A |
Christine Waara was born in Michigan's Upper Peninsula, surrounded by lakes and forests. Her passion to create art was discovered at an early age. A "nature girl" at heart, the humbling power of the outdoors has always served as an inspiration.
After obtaining a Bachelor of Science degree in Communications from Northern Michigan University she moved to Rochester, NY. It wasn't until much later, after marrying and having children that she started tapping into her talent for painting. She has studied with M. Wendy Gwirtzman in watercolor, Sari Gaby in portraiture, oils, and pastels, and Pat Tribastone in oils.
Chris works full time as an artist. She occasionally teaches classes but finds it more and more important to express herself with the paint brush. She is experienced in a variety of mediums: watercolor, oils, pastels, photography, and mural painting. Sometimes working three or four paintings at a time, she works from her studio using sketches and photos she has taken while traveling, biking, hiking, and camping. She has been involved in various group shows as well as solo exhibitions winning numerous awards in multiple mediums. Many of her works have found their way into private collections worldwide.
Although Chris presents us with ordinary subjects in her paintings, it's more about seeing the extra-ordinary, transforming something simple into something noteworthy, observing something beautiful and bringing it to our full attention.
"Nature helps me to become realigned with the wholeness of life. When I am in nature I feel a state of well-being, peaceful, alert, and happy. I become aware of my being a participant in the sacredness of Nature. It is my intention to share that feeling with the rest of the world through my paintings."
Christine is proud to be a member of the
Rochester Art Club, the
Niagara Frontier Watercolor Society, the
Penfield Art Association, and the Main Street Artists.
Comments:
Note: You must be logged in to add comments
---
2008-04-29 19:57:32 Welcome to RocWiki, Christine and Pat! Let us know if you have any questions. —PeteB