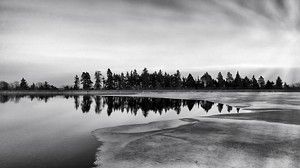 Reservoir, April 2014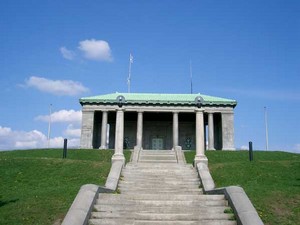 Steps leading up to the reservoir
A satellite view of the reservoir from Google Earth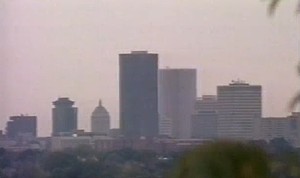 Overlooking Downtown Rochester at sunset from the reservoir in September 1990.
Cobbs Hill Park is located just off of Monroe Avenue in the Upper Monroe Avenue Neighborhood. It is naturally split into two sections. The lower area has a pond called Lake Riley, baseball fields, and basketball courts, as well as pavilions that can be rented for group events. The upper part of the park has a separate entrance off Highland Avenue, and it contains the historic Cobbs Hill Reservoir, a beautiful view of the city, and a nifty Water Board building.
The reservoir is a great place for walking and running, with both an asphalt sidewalk and a one-way road all the way around. Public parking is available on the north side of the reservoir.
The county also maintains a radio tower atop Cobbs Hill, which is used for
public safety communications.
To the east of the reservoir is Washington Grove. Covering approximately 100 acres, Washington Grove has a network of trails that winds through mature oaks and interesting topography. It's also home to two abandoned water towers. The area is a popular place for dog walking (on-leash), but bicycles are prohibited.
Washington Grove is notable for the height of its trees. It contained the tallest black oak in NY until it was felled. It is a popular birding hotspot in May. It has suffered in recent years because of overuse leading to erosion, soil compaction and trail widening; elimination of the duff later due to earthworms; introduction of chestnut blight, Dutch elm disease and butternut canker, compounded by the logging and other mismanagement of threatened trees; deer overpopulation due to the extermination of wolves and cougars early in Rochester's settled history; the planting of nonnative sugar maples to "replace" the chestnuts; introduction of various understory plants that are native in species but nonnative themselves; the proliferation of invasive species such as Norway maple; the spread of brown-headed cowbirds parasitizing other birds' nests; and unavailability of cyclic wildfires and other natural cycles. The understory is absent and most of its species are probably exterminated. The fact that the peak was entirely removed, while not pertaining to what we now call Washington Grove, likely exterminated species such as roundleaf dogwood. However, Washington grove is still perhaps the premier example of the unique ecology of the sandy slopes of the Pinnacle Range that is distinct from the surrounding clay lowlands.
Composed mostly of glacial deposits from about 12,000 years ago, Cobbs Hill is the beginning point of a set of hills which run for a few miles along Highland Ave through residential and commercial neighborhoods, including Pinnacle Hill (the highest point in Rochester). Public spaces in this range include Highland Park, Mt. Hope Cemetery and the University of Rochester Campus.
Amenities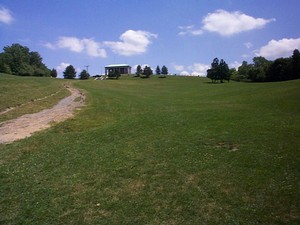 View from the bottom of the 'hill'. Image captured by David Howe, June 1998
Basketball courts


Horticultural


Lake Riley, a large man made pond (fishing allowed)


Scenic views


Softball fields


Tennis courts


Trails for biking, hiking, and walking
Some Interesting Facts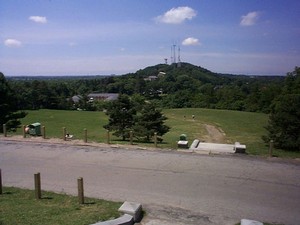 View from the top of the 'hill'. Image captured by David Howe, June 1998
110 Acres


Reservoir at the top holds 144,000,000 gallons of water.


Gatehouse was designed by J. F. Warner (of AJ Warner & Co. Architects fame).


1943-1945 used as a POW camp.
Notes and References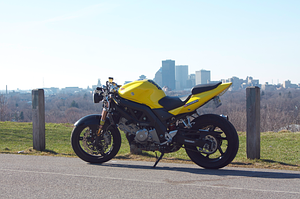 Cobbs Hill serves as a great location for photography, with its view of the Rochester skyline. Image captured by Brian Milburn, April 2011
See Also
Comments:
Note: You must be logged in to add comments
---
2005-11-16 22:02:25 Great photo! I've dragged my panting ass up those steps too many times too remember :) —MariahBetz
---
2010-06-30 10:59:58 It should be noted that Lake Riley was once a turning basin on the Erie Canal. —LtPowers