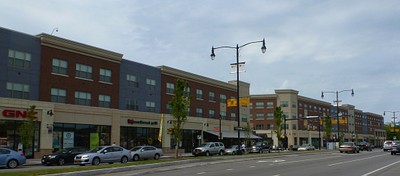 College Town is a mixed-use development/sub-neighborhood in Upper Mount Hope. It was built by the University of Rochester,
Fairmount Properties, and
Gilbane Development Co and designed to serve as a gateway to the UR Medical Center and River Campus.
College Town is anchored by the University of Rochester Official Bookstore. The other tenants are:
College Town's residential portion (over 154,000 square feet) is called the Mt. Hope Lofts. Construction also included a new street called Celebration Drive that connects Mount Hope with East Drive.
The groundbreaking ceremony took place May 2, 2013. College Town was officially dedicated on October 17, 2014. Grand opening was April 24-25, 2015.
In December 2015 plans for nearby student housing called the Gold Street Lofts on Mt. Hope were announced.
There was also a grocery store called Constantino's Market, but it closed after less than a year.
Zagster has a station there.
Events
College Town hosts numerous events throughout the year. Summer 2015 witnessed Wednesday Music Lunch, Friday Concerts, and the Summer Outdoor Movie Series. Special events in the past have included Fairy House Building Day and a Sidewalk Sale and Live Music.
References
Comments:
Note: You must be logged in to add comments
---
2013-11-05 11:51:34 RIT called their project College Town too. —Damiankumor
---
2013-11-05 12:51:04 Its official name is Park Point at RIT. —EileenF
---
2015-01-31 14:54:53 A known character on Reddit had
this to say about College Town. I thought it was hilarious. (strong language) —EileenF
---
2015-10-24 18:35:35 From the latest issue of The Wedge, in a review for The Soup Spoon (which is actually across the street from College Town):
When searching for new-to-me restaurants to write about, I'm always craving the idiosyncratic, the tucked-away, the restaurant that tells me something about the community in which it lives. I didn't expect to find any of that in College Town. The manufactured Main Street look, the PILOT agreement, the Hilton - heck, even the transilluminated signs - all brought to mind Dante's warning: "abandon all hope, ye who enter here."
Ouch. He did like the Soup Spoon, though. —EileenF