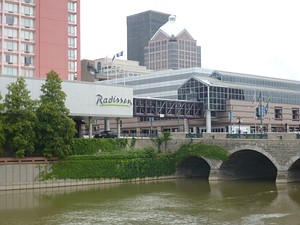 The Convention District is Rochester's center for conventions, conferences, special events, and other large gatherings. In addition to the Convention Center itself, the neighborhood contains several hotels to host visiting attendees, as well as parking garages to house a large number of cars. The Genesee River provides an attractive waterfront backdrop, while conveniently located restaurants allow for lunch and dinner meetings.
The neighborhood also contains the Genesee Crossroads Park and the Sister Cities Pedestrian Bridge. These were evidently designed to attract foot traffic from the hotels and Convention Center but never took off and are somewhat neglected. Also located here in Cornerstone Park, which will soon be undergoing a complete rehabilitation.
The Hilton Garden Inn Downtown was opened in March of 2015, and is the newest hotel property in the "Convention District".
The Convention District contains little other than the hotels. Additional restaurants and services are available in the adjacent Four Corners and Midtown District.
Establishments
Food and Drink
These are all located in the various hotels.
Hotels
Other
Comments:
Note: You must be logged in to add comments