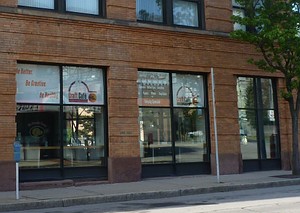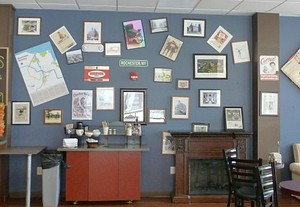 Wall of Rochester memorabilia.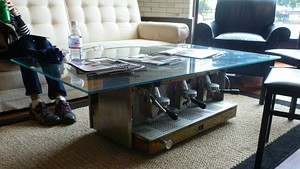 Coffee table made from an old espresso machine.
Craft Cafe is a lunch spot and coffee bar that serves the Downtown Rochester community. They are located on the ground level of the historic Kirstein Building in the St. Paul Quarter.
They pride themselves on freshly brewed Finger Lakes Coffee Roasters gourmet coffee and
Boar's Head Deli premium quality deli meats. Martusciello Bakery provides fresh baked bread, while Newbury Park Pastries and Sweet Street Bake Shop provides cookies and pastries daily.
Craft Cafe is an environmentally friendly establishment. They use 100% recycled paperboard products to promote a "green" community.
They also offer online ordering and free WiFi for their customers.
Craft Cafe opened on January 14, 2013. Formerly ROC River Coffee Co..
Comments:
Note: You must be logged in to add comments