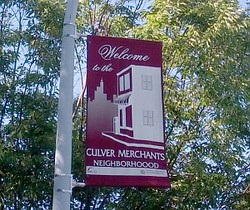 Streetlight banner in August, 2012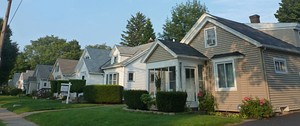 A row of Cape Cods on a side street.
Culver-Merchants is a triangular neighborhood with an active retail district on Culver Road, Merchants Road and East Main Street. It also boasts many quiet, well-tended residential streets lined with small, mid-century houses. The Garden of E.D.E.N. is a small green space.
Culver-Merchants is often considered part of the overall North Winton Village area. It is also known as The Triangle by residents, as they do not tend to identify with North Winton Village.
Culver Road forms the border with Beechwood.
Establishments
Bars and Restaurants
Grocery and Convenience
Retail
Services
Worship
Other
Links
Comments:
Note: You must be logged in to add comments