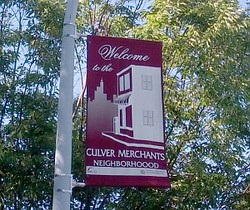 Streetlight banner in August, 2012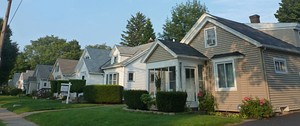 A row of Cape Cods on a side street.
Culver-Merchants is a triangular neighborhood with an active retail district on Culver Road, Merchants Road and East Main Street. It also boasts many quiet, well-tended residential streets lined with small, mid-century houses. The E.D.E.N. Urban Gardens is a small green space.
Culver-Merchants is often considered part of the overall North Winton Village area. It is also known as The Triangle of North Winton Village, a subneighborhood enclosed within North Winton Village. The Triangle was a special area of neighborhood improvement focus through NeighborWorks in 2016-17.
Culver Road forms the border with Beechwood.
Establishments
Bars and Restaurants
Grocery and Convenience
Retail
Services
Worship
Other
Links
Comments:
Note: You must be logged in to add comments