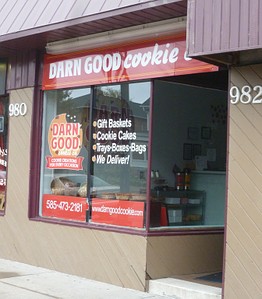 Oct. 2012
Former Location
982 Monroe Ave, Rochester, NY 14620
Status
CLOSED as of February 13, 2015
Darn Good Cookie Co. was a bakery in Upper Monroe. It was a subsidy of East House, a non-profit rehab agency for individuals with mental health or chemical dependency issues. Darn Good Cookie employed East House clients, allowing them to gain job skills and experience.

Darn Good Cookie assembled and delivered cookie cakes and baskets. You could also walk in and purchase individual cookies for only $1 each. Varieties included specialties such as I Want Candy and Red Velvet White Chip, as well as traditional options like chocolate chip, peanut butter, and oatmeal raisin

They opened in October 2012.
Closed February 13, 2015.
Comments:
Note: You must be logged in to add comments
---
2013-08-06 08:51:28 The cookies aren't bad. I had a bunch the other day. —Damiankumor