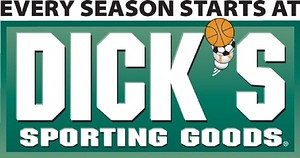 Locations
Phones
305 Miracle Mile Dr, Rochester, NY 14623
585 697 7400
304 Greece Ridge Ctr, Rochester, NY 14626
585 227 3730
200 Eastview Mall, Victor, NY 14564
585 282 0000
1062 Ridge Rd, Webster, NY 14580
585 872 1080
Hours
Varies by location
Accessible
Yes
Website
http://www.DicksSportingGoods.com/
Dick's Sporting Goods is a national chain sporting goods store with four locations in the Rochester area. The Marketplace Mall location (on Miracle Mile Drive), formerly Galyan's, is two stories, and contains an indoor rock climbing wall.
In March 2021, the Victor location moved across the street to Eastview Mall in the former Sears space, opening one of their largest stores in the country. The store now has indoor golf simulators, batting cages, and an outdoor turf field.
Comments:
Note: You must be logged in to add comments