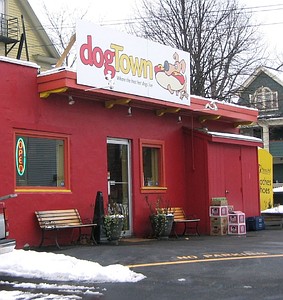 Dogtown on a kinda grey snowy day 12-07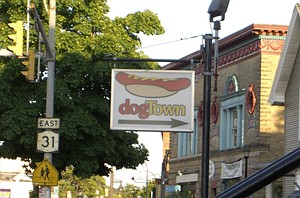 The welcoming sign for Dogtown, as seen heading east on Monroe Avenue.
Dogtown (a.k.a Dogtown Hots) is a cheap dog-themed joint on Monroe Avenue (Monroe Village) that sells hot dogs, burgers, Junkyard Plates, homemade soups, salads, and sandwiches. They replicate regional hot dog favorites from around the nation and come up with their own overloaded variations. There are over twenty to choose from. Try their German Shepherd, a New York City-style dog with onions and kraut. Or the Boston Terrier, with bacon, baked beans, and special Dogtown chili. The French bread substitute for traditional rolls are very filling.
They have many vegan options as well. A vegan special is offered every Thursday, featuring various handmade burgers such as spinach-tofu, red or black bean, and mushroom-walnut. In 2014 Dogtown received an
honorable mention from PETA for best vegan hot dogs.
Outdoor seating is available on their patio, with additional condiments and utensils stored conveniently outside as well.
Awards
Voted "Best Hots Restuarant" and "Best Cheap Eats" by City Newspaper's 'Best of Rochester' Awards in 2015.1
Comments:
Note: You must be logged in to add comments
---
See Archive Page for comments prior to 2008.
---
2008-02-07 11:27:15 This place has the best homefries anywhere —KarenSmith
---
2008-04-18 13:43:38 Excellent place! The cashier was extremely friendly, and the food was great. I had the Bernese Mountain Dog and would recommend it for a definitely different dog. I will be back :) —RoryGordon
---
2008-06-02 01:27:36 Had another excellent quick meal here recently! Black bean burger on special and by far one of the best I've had in a restaurant, so yummy. The fries are also nicely spiced here, which I appreciated it, and it's also a pleasure to be able to sip a Stuart's Key Lime Pie soda with my meal. Next time I have to remember to bring in photos of my dogs to add to the walls! —MariahBetz
---
2008-06-02 22:09:36 Excellent place. Very tasty hot dog combinations —ThomasPawlik
---
2008-06-04 22:47:35 I always get a great hot dog when I eat lunch here. The bread is wonderful and the fries are good and hot. The servers are always friendly and help make the lunch experience enjoyable —RocDiner
---
2008-07-20 15:46:53 I'm torn.
I love the creativity on the menu, and everyone is incredibly friendly (they were turning off the griddle when I walked in 5 minutes to close, and cheerfully turned it back on).
On the other hand, the bread is disproportionately big, and swallows up the hot dog. The Chicago dog was overwhelmed by a huge slice of green pepper (?).
I'm not giving up. They're so nice that I feel I owe Dogtown a return trip, and will try something else on the menu. —ZachSmalt

---
2008-08-10 21:25:38 Excellent!! The service is OUTSTANDING! Great bread and prices are reasonable.
---
2008-10-10 13:02:50 As a vegetarian, I was pleasantly surprised at the magnitude of choices I have when eating at DogTown! My 3 yr old daughter loves it too - always calling out "DOGTOWN!" when we drive down Monroe Ave. I craved DogTown when pregnant w/ my second daughter - often eating a hot dog (Rhodesian Ridgeback being my fave!) and sweet potato fries for dinner 2-3 times a week! Seriously! Thank you, DogTown, for offering such a great selection for vegetarians to choose from! —LKR

---
2008-10-10 13:24:09 I am a struggling vegetarian and a friend recently told me they have a great veggie garbage plate. I will be trying that as soon as I get a chance! —BadFish
---
2008-10-10 15:39:47 BadFish, I've had an awesome blackbean burger here. Probably one of the best I've had anywhere. I think it was a special at the time, but if enough people ask about it maybe they'll add it to the menu! Their veggie burger is good, but I'm not into veggie burgers. Blackbean is the way to go for me. —MariahBetz
---
2008-10-31 17:14:57 I have only eaten food from Dogtown twice so far, and have gotten takeout both times, so I haven't visited in person yet - but WOW!!! I already love this place. I've tried the Mushroom Meltdown and the Veggie Burger - both amazing, and I love the bread they use. Not soggy, but not overly difficult to chew like some French breads can be. Each time I have called in an order, the person answering the phone has been friendly and pleasant. I can't wait to visit in person and try out some more of their terrific vegetarian options. My coworker got a Mushroom Swiss Burger and said it was delicious and cooked to perfection. Great fries, too! —deanadeana
---
2008-11-01 17:16:13 A very unique place to eat. One of my favorite places in all of Rochester. A clean, friendly place with enough variety and great ingredients to have me coming back constantly. —Dustin
---
2008-12-10 21:02:03 It's so nice to see a business finally succeed in that space! And it has one of the best plates in town, to boot! —BatGuano
---
2008-12-28 22:22:51 My #1 all time favorite eating institution in the ROC... but has anyone noticed that they cut the rolls in half? —SeanToTheFuture
---
2008-12-29 15:23:46 The people here set the standard for good counter service - friendly, helpful, and efficient. The service makes me want to come back, so it's convenient that their food is so tasty. I dig the cattle dogs. Their plate strays just a little bit from tradition, but it tastes great, and I like their attention to the ingredients they use. It's my plate of choice —EastSideStephen
---
2009-01-26 18:49:21 Delicious food all around, excellent service as well. Spent way to much there last year because it was within walking distance of my apartment. —KeenanBailey
---
2009-02-18 19:53:42 Dogtown is fantastic!! The owners are super friendly and the food is great! The veggie dogs are delish and I love all the combinations. Great place! —dmarie
---
2009-06-05 15:24:43 Best place to get a dog in this town, they have everything a dog lover could want! Being a relocated southerner I couldn't be happier to find a good slaw dog, the southern hound.
I am slowly trying the whole menu, and have yet to encounter a dog I haven't enjoyed. Love dogTown. —WindyPig

---
2009-08-25 03:06:32 Yeah Dogtown! My veggie self and omnivore lady eat here once a week. Delicious and creative dogs, fries, burgers, soups. Makes me drool just thinking about it. —JustinKramer
---
2009-10-02 20:43:06 Hands down...best plates in Rochester! The fries are amazing and their specialty dogs are delicious. —MetalFrost
---
2009-10-08 10:57:35 This is one of Rochester's Gems! I have recommended this place to all my friends and acquaintances and everyone is thrilled I have. Fun place, great service, unique & tasty menu. I love the Cincinnati, the Rhodesian Ridgeback and their plates rival the best. The potatoes and mac salad are delish... I can't say enough good things, if you haven't been, run, don't walk... you wont be disappointed. —SteveRobida
---
2010-02-15 15:10:36 I must say that once you have their homefries, its hard to have homefries anywhere else... yep they're good. —TippingPoint
---
2010-05-23 12:06:53 Went here yesterday. I had the Golden Retriever and Coyote dogs. The hot dogs were nicely grilled and delicious. In addition to a large vegetarian menu, you can substitute veggie dogs for any of the hot dog creations, which means that even my picky vegetarian daughter might be willing to go here. I will definitely try this place again. Only complaints would be the lack of normal chili and the not so tasty hot dog buns. Cinnamon and chocolate do not belong in chili. The large buns overwhelm the dog and make it hard to actually fit the hot dog into your mouth. —ChristineH
---
2010-06-04 14:23:09 I really don't understand why this place isn't winning "Best Vegetarian Restaurant" in Rochester.
While it may not be their main crowd, I can tell you that as a vegetarian, this place is heaven. Fresh, Creative, Homemade, and Delicious veggie dogs and plates (veggie garbage plates!). I travel all over the world and I always crave DogTown when I'm away. Homefries and mac salad are awesome, btw.
All I can say is, it's a good thing I don't live closer or I'd be poor and fat because of this place. —pdx87

---
2010-06-28 23:21:22 This is the place where I fell in love with veggie dogs. The buns that they use are amazing. —CarBenBra
---
2010-10-27 00:53:57 Amazing hot dogs and fries. Also, they have Saranac root beer available :) —SargtGrumbles
---
2010-11-14 16:53:57 Best plate in Rochester, IMO. Good atmosphere as well —ddm3411
---
2010-11-27 20:56:05 Excellent, excellent!! I would have tried everything on the menu by now except that usually the bernese mountain dog starts calling my name when I try to order something different. Great onion rings, cole slaw, even the sauerkraut is special. Try the soup, the pie, the meat hot sauce. Its all good and so is the service. —RachaelT
---
2011-02-17 15:54:44 Went here for lunch today. This makes trip number 4,543. I am kidding about the number but I do go here a lot. Dogtown is the best. Consistently great food! Keep it up! —dmarie
---
2011-03-23 21:36:35 Stopped by last week. The girl behind the counter was very polite, even though they were relatively busy. Received my food very quickly and was pleasantly surprised by its quality. Will definitely be back. —Sage
---
2011-04-02 19:23:03 I would get married just to have Dogtown cater my wedding. Try the Caribbean Wild Dog for unbeatable flavor sensations! —dphil97
---
2011-10-05 21:44:07 I ordered a simple bowl of chili, waited at least 20 minutes. Couldn't get the cashier's eye, though it wasn't busy. Finally, I figured out they simply never put my order in. No apology. Can't comment on the quality of food, though! —LizAgreo
---
2012-04-30 14:30:56 Love their Thursday night homemade veggie burger specials. My favorite ones are the jamaican black bean burger and the chickpea walnut greek burger. Great, high quality ingredients! And one of the best plates around! —lilBiscotti
---
2012-08-02 07:54:06 Love Dogtown, I like to call in orders and pick them up on the bike, they will even wrap it up extra so I don't end up with meat sauce in my backpack! —PDub
---
2013-05-31 10:58:01 Good aside from the Dixie Cups. Why? —PebbleWiki
---
2013-07-03 23:27:42 food not too bad...bread soggy...PEOPLE very rude..manager or owner not very friendly. My little cousin's fries fell and he was morttified..poor baby crying his eyes out till a very nice customer bought him another one while the manager just stood there shrugging his shoulders...NOT very children oriented. —amypet
---
2016-08-26 21:59:50 The plates are great. The unique dogs are all great. This place is great. And dirt cheap. —Cretinx
---
2016-10-10 15:43:43 I find myself coming here more than any place not named Wegmans. The best plates. —DE